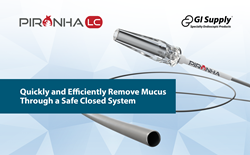 It is a privilege to support the pulmonologists that are saving lives in the midst of the pandemic crisis. Kristi Dahlke, Interim CEO GI Supply
MECHANICSBURG, Pa. (PRWEB) April 15, 2020
GI Supply today announced the launch of the Piranha LC (Luminal Clearance) Aspiration Catheter for the quick, safe and effective removal of mucus and lung lavage in severe COVID-19 patients. Through its closed system, use of the Piranha LC could reduce the risk of the coronavirus infecting doctors, hospital staff and other patients as compared to current bronchoscopy procedures.
Severe coughing by COVID-19 patients can result in the release of sputum or thick phlegm from the lungs. Removal of this mucus with a bronchoscope, which is an aerosol-generating procedure, poses risks to doctors and hospital staff, including the potential spread of the virus to others.
The Piranha LC offers a safe alternative by using a patented filtered aspiration system, independent of a bronchoscope, to perform deep mucus removal and lung lavage without aerosol generations. This enables the intervention of ventilated patients without spreading the virus. The system is designed to support the needs of interventional pulmonologists, critical care pulmonologists, hospital staff and the patients they serve. Because of the Piranha LC closed system, hospital staff will likely spend less time disinfecting the rooms of
COVID-19 patients, resulting in greater workflow efficiency.
Specifically, the Piranha LC Aspiration Catheter provides:

A Closed System to support safety by avoiding the need for scope suction, and collecting all particles and samples into a suction cannister with its patented filtered aspiration system
Ease of use for quick and intuitive procedures
Efficient Design that uses wall suction and a Teflon-coated catheter to maximize mucus removal
"The Piranha LC helps pulmonologists clear mucus from the pulmonary tree via a closed system that will help prevent fluid aerosolization and obtain non-contaminated lung aspirates," explained Robert A. Ganz, M.D., FASGE, S.A., the inventor of the Piranha LC. "It should be of great benefit in patient care."
Working in partnership with Biomerics, GI Supply will provide national sales and marketing support on behalf of the Piranha LC Aspiration Catheter. "It is a privilege to support the pulmonologists that are saving lives in the midst of the pandemic crisis," said GI Supply CFO and Interim CEO Kristi Dahlke. "While we have the capacity to meet the needs of clinicians across the country, our most urgent priority right now is to serve the areas hardest hit by COVID-19, including the New York metropolitan area, Chicago, Detroit and New Orleans."
In addition to COVID-19, the Piranha LC Aspiration Catheter is indicated for use in patients with cystic fibrosis, lung cancer and COPD. "The device is a great tool that physicians can use to clear mucus, areas of necrosis and infection, and can also be used to clear blood and blood clots," added Dr. Ganz.
Click here to watch a brief animation demonstrating how the Piranha LC treats patients.
Click here to access the Piranha LC Instructions for Use. (Scroll down web page to the "Documentation" tab.)
About GI Supply
As a physician-founded company, we strive for deep clinical input into all that we do. GI Supply is broadening our portfolio with solutions that allow physicians to perform more-advanced procedures safely, efficiently and economically. We help doctors do their jobs faster, safer and simpler. For more information visit http://www.gi-supply.com.
Dr. Ganz is a member of the GI Supply Board of Directors.
Contact
Jimena Garcia Vela
VP of Marketing
j.garcia@gi-supply.com