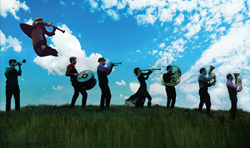 ...Oakland based dance orchestra that plays Roma brass music from the Balkans, performs an upbeat and infectious brand of music. - TEDMED
SAN RAFAEL, Calif. (PRWEB) November 01, 2018
Who says kids get all the fun during the holidays? This year, the Osher Marin JCC is presenting a weekend celebration; kicking off with a wildly crazy wonderful dance party featuring live music from Inspector Gadje.
The driving groove of low brass and drums, mixed with soaring melodies from trumpets, saxophones, and clarinet, incite joy from the very first downbeat. Inspector Gadje ignites the dance floor and creates a wild dance party where ever they play (including MGM Arena, Fox Theater, Palace of Fine Arts, The Independent, Ashkenazi, Café du Nord, The New Parish, Rickshaw Shop and Yoshi's to name a few).
The Kanbar Center & the Center for Jewish Peoplehood at the Osher Marin JCC join forces to bring this special evening of BIG Brass, BIG Music, BIG Party, BIG fun, cocktails, food, and dancing to the JCC.
Hearing Inspector Gadje is love at first listen and this program is a party in a box — unique, talented, fun and, well, a little loud. Come to experience the fun of this "not so quiet" secret that is about to bust out of the SF dance scene.
There will be room for dancing, a belly dancing performance, and food and drink available, so get ready to party!
Video: https://youtu.be/lM0ZopDqVJU
WHAT: A unique night of music from the Balkan s from Inspector Gadje with food, drinks, & dancing!
SEATING: Reserved cabaret table seating & general admission choices
TICKETS: $25 – $35 / Ages 17 & under $10 Available at marinjcc.org/arts
WHEN: Sat. Dec. 1 @ 7:30 p.m. Beer/Wine/Concessions avail for purchase @ 7 p.m.
WHERE: The Osher Marin JCC, 200 North San Pedro Road, San Rafael.
PARKING: Ample FREE parking- The Osher Marin JCC is 1/2 mile E off 101.
MARK THE CALENDAR FOR SUNDAY! From 11 a.m. to 2 p.m. Sunday, Dec. 2, bring the kids to the FREE, Festival of Lights Hanukkah party with fun, games, food, crafts, music & more for all ages.
Coming Soon:
12/9 Winter Vocal Celebration: Wintersongs – Kitka
12/31 The 9th Annual New Year's Eve Other Café Comedy Showcase