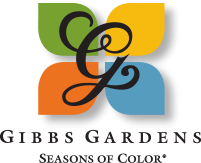 "Being named to the list of the 13 Best American Botanical Gardens is another dream come true."
BALL GROUND, Ga. (PRWEB) September 22, 2020
Gibbs Gardens added a new honor to its growing list of awards. Business Jet Traveler (BJT) magazine's Fall 2020 issue named Gibbs Gardens to its 2020 Best Botanical Gardens in America list. Marjorie Goldsmith, acclaimed, 90+ award winning travel writer and author, selected the gardens for the 2020 Best Botanical Gardens in America list.
"Being named to the list of the 13 Best American Botanical Gardens is another dream come true," said Jim Gibbs, the owner, designer, developer of Gibbs Gardens. "Opening Gibbs Gardens to the public in 2012 was my life-long dream and to now be recognized among the other great American Botanical Gardens is a rewarding and thrilling experience."
World-Class Garden Destination
Located in Ball Ground, Ga., 336-acre Gibbs Gardens was recognized for its 220 acres of artistically designed gardens, 24 ponds, 32 bridge crossings, 19 waterfalls, spring-fed streams and walkable pathways. Another 100 acres are currently being developed into two additional gardens, not open to the public at this time.
Known as a world-class garden/travel destination, Gibbs Gardens includes four main gardens: Daffodil Gardens with more than 20 million daffodils in bloom over six weeks; Japanese Gardens, the largest in the U.S.; Manor House Gardens; and Waterlily Gardens featuring an exact replica of Claude Monet's Japanese Bridge.
The 16 additional gardens each feature sweeping plantings of azalea, cherry blossoms, crape myrtle, daylilies, dogwoods, hydrangea, Japanese Maples, rhododendron, roses, wildflowers, a fern dell and Grandchildren's Sculpture Garden. Each unique garden blends harmoniously with the mature forest, gently rolling hills and amenities specifically designed for guests' comfort and convenience.
An Award-Winning Tradition
Gibbs recently received the 2020 Award of Excellence—the highest national award presented by the Garden Clubs of America—for his achievement in the design and development of Gibbs Gardens. He also received the 2020 Merit Award presented by the Garden Clubs of Georgia.
Gibbs Gardens received the Southern Living award for the Best Southern Garden. Other awards include The Best Fall Color in Georgia, Southern Accents Magazine; Best of the Southern Gardens, Trip Advisor/Travelers' Choice 2020, Certificate of Excellence 2019 and Hall of Fame-2015, 16, 17, 18, 19. The famed spring daffodils and fall Japanese Maples crimson foliage have been featured in Southern Living magazine.
A founding member of the Atlanta Botanical Garden and lifetime trustee, Gibbs served as president and founder of Gibbs Landscaping Company for more than 40 years. Gibbs and his company won over 300 national, state, regional and city awards; two national awards were presented at the White House. He is also the author of "Gibbs Gardens: Reflections on a Gardening Life," which follows his 30-year-old journey to bring his vision to fruition.
Recognized as an important location for healthy exercise with social distancing, Gibbs Gardens remains open during the COVD-19 pandemic. For information about location, hours, ticketing and COVID -19 precautions go to https://www.gibbsgardens.com/
Business Jet Traveler (BJT) is a quarterly publication designed for CEO's, celebrities and other "high net worth individuals who fly privately," said editor Jeff Burger. The publication is distributed in 150 countries.