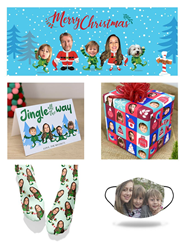 This year you may not be able to come home for the holidays, but your smiling face can.
WESTON, Fla. (PRWEB) November 20, 2020
A South Florida-based gifting startup has expanded its online celebration product line in response to anticipated demand and changing consumer habits as the first socially distant holiday season begins.
GiftWrapMyFace.com, pioneers of the Elfie Selfie customizable giftwrap and rocketed to fame by Oprah, has added personalized face-emblazoned socks, masks, stockings, dog bandanas, virtual party kits, Augmented Reality giftwrap and Video Gift Wrap to a roster of whimsical celebration paraphernalia.
Gift Wrap My Face co-founders, husband and wife team Aryel Rivero and Vanessa Clavijo of Weston, FL, said the company's online only, direct-to-consumer business has always focused on creating memorable connections that transcend distance. The duo added that the company is uniquely positioned to respond to the shifting habits of price-conscious holiday shoppers in search of new traditions that prioritize the meaning of moments over material items.
"This year you may not be able to come home for the holidays, but your smiling face can," said Rivero. "The face of your favorite pet, or your baby picture or your sister or your brother. Our gifts smile back, and people need that more than ever."
Clavijo said that the giftwrap, often repurposed for crafts or holiday ornaments, gives shoppers a serious bang for their buck.
"In fact our customers who buy from us year after year always say they don't need to put anything inside the box because the giftwrap is the gift," said Clavijo. "But now with the pandemic, we saw an opportunity to give them what's inside the box too. It makes the holiday shopping process easier. And people don't really need stuff in the way they used to. They need smiles and memories and moments, but at a safe distance, in their homes. So Gift Wrap My Face socks and masks and bandanas and more are now available to fulfill that."
Gift Wrap My Face offers a variety of proprietary designs that you can customize with your face. Customers around the globe have put the faces of their pets and parents and babies and beloved friends on Mr. & Mrs. Claus, Hanukkah Menorahs, Unicorns, Snow Angels, Snowmen and of course, Fa La Llamas.
Festive face masks that are made of breathable, 2-ply polyester with black elastic ear bands include a filter pocket and sell for $18.99. Customers can put their face on socks for $24.99, create stockings with faces for $26.99.
Other products that are tailored for a socially distant holiday season include:
Custom, family holiday cards that don't require a fancy photo shoot for starting at $49.99.
Video Giftwrap ($34.99), which provides an interactive experience as part of the gift. The recipient uses a smartphone to scan a code embedded on the giftwrap, which shows a secret, pre-recorded video to make the gift even more special.
Augmented Reality Giftwrap ($19.99) is similarly smartphone compatible, using a QR code and a mobile app to make your giftwrap characters appear as if they are dancing on the gift.