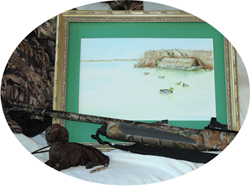 Memorable art that can be personalized.
Sacramento, PA (PRWEB) September 24, 2013
Interactive art prints are unique gifts for men. These hunting journal ideas can be used for hunting with a bow, a gun, hunting dog or a camera. Keepsake "Duck Hunting" prints capture memories of special occasions. KEE Kreations has created the perfect gift for anniversary celebrations, birthdays or Christmas gifts. "Duck Hunting" is a unique, personalized, hunting journal idea. Most hunters have special hunting trips that they always want to remember, and yes, brag about. But after time passes, it is hard to keep all of the dates and experiences fresh in mind.
KEE Kreations is known for creating memorable and accessible art that can be personalized and customized. KEE Kreations' hunting journal print, "Duck Hunting", allows the owner to maintain a hunting journal, keeping the facts straight long after the trip has passed. This Interactive Art print is designed to be written on. Yes! Write on the artwork! Simply add a date, where the trip was, the names of traveling companions and what the results were. Add a few words as a reminder of the highlights from the trip. Maybe even allow all the members of the hunting camp to log their hunting experiences and have a friendly competition!
The "Duck Hunting" print is a beautiful and fun way to display a collection of travels, and hunting event memories. This hunting log can be handed down to children and grandchildren to relive their hunting experiences, as well. Start a hunting log for your children and grandchildren to capture their excitement and hunting experiences.
A framed "Duck Hunting" print can also be used as a memorial to honor a son, husband, or hunting companion. This print is perfect to hang in a home, hunting camp, lodge, office or other meeting place "In Memory of" the special person who has passed away. Write the name, date of birth, death, and maybe things the deceased was fond of. Also, each person who had the opportunity of hunting with that individual can sign somewhere on the print, possibly adding a few words to honor their beloved hunting companion.
For more information about "The Hunter" prints, visit http://KEEKreations.com or email Karen at Karen(at)KeeKreations(dot)com. KEE Kreations has been presenting quality art since 1985, with an emphasis on personalization and unlocking the door to meaningful aesthetics for customers all around the country. Stay safe and enjoy the hunt!
Media Contact
Karen Erdman
karen(at)keekreations(dot)com