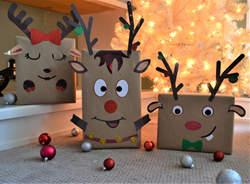 MENOMONIE, Wis. (PRWEB) November 27, 2018
Gifts of Gab is a new line of unique gifting embellishments created and designed by Kim Nimsgern, CEO of Casual Panache Inc. Nimsgern's company is a Woman Owned business of five individuals that reside in Menomonie, WI. Kim was known in her small rural Wisconsin town for the novel and innovative birthday parties she would host for her children. She believed that the memories of a sensational party would long outlast the recollection of any tangible gift. She would begin the theme selection and planning months ahead of time, scouring books, magazines, and blogs (this was before Pinterest) for images, articles and resources for invitations, activities, recipes, decorations and party favors that were easy, budget-friendly, and would result in a memorable "wow" reaction. Her (now adult) children describe their mom as "extra," and that's a reputation in which she is proud to uphold. It's the manifesto and inspiration for Gifts of Gab (of which she is Founder and CEO).
Kim always wondered, what is the value of wrapping gifts? Why do we get so stressed out over picking out the perfect gift, and then continue to fret over its presentation? Surely the recipient will love what was picked out for them no matter what... right?
This practice of gifting, of meticulously cutting, folding, and fastening paper transcends cultural boundaries and religious doctrine. It has been around for millenia. The wrapping of gifts points to a more essential experience, a way humans have learned to frame objects to designate them as special. Wrapping an ordinary object is what transforms it into something extraordinary. It transforms something impersonal into something personal — ritually turning an anonymous commodity into an idiosyncratic gift. In today's terms, for example, the iPhone anyone can buy becomes, when wrapped, the iPhone I got for you.
The struggle is real in making the hard work and effort you put into choosing your gift stand out through a bag or box! However, it's not necessary to spend hours on end perfecting the beautiful aesthetic of a gift, especially around the chaotic holiday season. It IS possible to get beautiful, unique gift packaging options at an affordable price, while still being able to have free time to watch Hallmark movies and attend those holiday parties.
The solution is Kim's brainchild, Gifts of Gab Embellishment Kits and Can-O-Grams! There is no denying Gifts of Gab's options for creativity in designing a gift that you'll be proud to give. In fact, there are currently over 15 different creative packaging options at this very moment, including festive Reindeer and jolly Santa embellishments, and cheeky Bah Humbug and cozy Christmas Joy cans. These gift-wrapping items are Pinterest-worthy and quick to use, and are fun to make, give, and receive! Thank goodness for an option that truly makes your stand-out Christmas gift stand out.
The days of the common uncreative are over. You are going to have so much fun making and taking your gift, and seeing the reactions of delight on your loved ones' faces when it's finally time for the gift-opening on Christmas morning!
Our Embellishment Kits include enough easy-to-adhere pieces and parts to create 3 unique gifts. To use, start with a simple and inexpensive gift bag or box, and add Gifts of Gab mix-and-match embellishment stickers and cardstock pieces from the booklet to create a unique gift wrap masterpiece! Everyone at the Christmas party will be talking about your gift before they even know what's inside. The retail cost is $14.99.
Our Can-O-Grams are an amusing alternative for a gift card or box. These smartly designed cans can be filled with money, candy, gift cards, small gifts or anything that will fit. Once sealed, the only way to acquire the treasure inside is to pop the top! Each can includes a self-sealing bottom, attached after the Can-O-Gram is filled with goodies. Each set includes three cans. The retail cost is $15.99.
To learn more about Gifts of Gab Embellishment Kits and Can-O-Grams, view our YouTube videos:
https://youtu.be/JIRBI-hu5pQ
https://youtu.be/O8qG8lZE7J4
https://youtu.be/ChW_xYXRJhU
About Gifts of Gab
Casual Panache, Inc. was founded in 2007 by Chippewa Valley native entrepreneur Kim Nimsgern. The business evolved from a unique party accessory company into the brand name for Gifts of Gab when in 2018, the Gifts of Gab trademark was established. For more information, please visit http://www.giftsofgab.shop