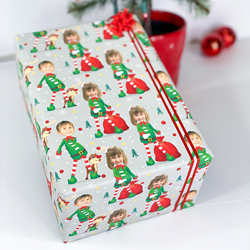 WESTON, Fla. (PRWEB) November 18, 2019
That startup behind the viral sensation of selfie wrapping paper has launched a new product category for the 2019 holiday season: smart wrapping paper.
Gift Wrap My Face is a platform that allows users to integrate their own selfies – and the faces of their pets and loved ones – into a selection of whimsical wrapping paper designs that includes the popular so-called "Elfie Selfie." Since the company's founding five years ago, tens of thousands of consumers across the globe have created giftwrap with faces on it.
Now, not only can gift-givers create presents with their own Elfie Selfie image – the Elf can dance when viewed through a smartphone. The elves on wrapping paper appear to come to life when users views the gift through the Gift Wrap My Face app. In fact, the elves do the popular dance move, "the Floss."
"We're proud to launch another new product category just in time for the holidays," said GiftWrapMyFace.com creator and co-founder Aryel Rivero. "This is a natural next step for the Gift Wrap My Face brand."
Also new for 2019 is video giftwrap, wrapping paper encoded with a secret message. Simply scan it with your phone, and a secret video recorded by the sender will play for the recipient. It's a perfect for long-distance relationships.
"As a working mom, I love to create gifts at an affordable price that customers will never forget," said GiftWrapMyFace co-founder and co-creator Vanessa Clavijo. "You can wrap anything in our paper and it becomes a magical moment. It doesn't matter as much what's inside the box – the giftwrap is the gift!"
Beyond the holidays, Gift Wrap My Face is making parties smarter with personalized party kits. Simply upload your photo and the platform will turn that face into a character like a superhero or astronaut or unicorn. The customer will receive a package that includes everything needed for the perfect party, from labels to backdrops, banners, stickers and more.
Based in Weston, Florida, GiftWrapMyFace is a digital innovator of celebrations. The GiftWrapMyFace platform allows gift-givers to create a variety of unique, personalized and memorable experiences. With GiftWrapMyFace, you don't have to spend a fortune to make a gift memorable and meaningful – or a party worthy of your favorite Pinterest board.
Customers have created giftwrap featuring themselves in tons of different, funny costumes or as a virtual character such as the "Elfie Selfie" and "Santa Selfie" design. Grandmas love receiving gifts wrapped in the faces of their grandchildren. Animal lovers create giftwrap with the faces of their pets.
One full roll of personalized, full-color giftwrap starts at $16.95 (24"x60") and wraps three medium sized gifts; and a 5-roll bundle ships free and wraps 15 medium sized gifts starting at $59.99.
For more, visit http://www.giftwrapmyface.com
SECRET VIDEO MESSAGE GIFTWRAP (VIDEO – https://youtu.be/Lt_qj1T974I)

Send any video with your Giftwrap linked to a code embedded in the paper, scanned by the recipient's smartphone
Perfect for long distance relationships, military families and college kids
AUGMENTED REALITY GIFTWRAP (VIDEO – https://youtu.be/53JYdcXJpiQ)

Download our app "Gift Wrap My Face," hover your phone over the gift wrap and watch your paper come to life
The elf will dance and do "the Floss"
Image of the AR Elfie Gift Wrap
https://www.dropbox.com/sh/s9r7plgnjy1wfqx/AAAcYroZecvfQjebnC5Dkc9wa?dl=0