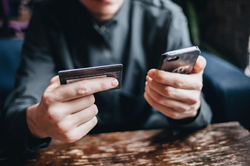 "giftya provides consumers with even more convenience and secure redemption options," said giftya founder and CEO, Jason Wolfe. "Additionally, it enables consumers to convert their giftyas to pay for more essential needs if they desire."
PITTSBURGH (PRWEB) November 10, 2020
giftya, the personalized, digital smart gift card platform, now enables gift recipients to link their giftya e-gifts to their Visa® credit card, in addition to debit cards, for seamless redemption at any of giftya's 5000+ national and local partner merchants.
This linkage establishes giftya as the industry's first truly "Smart Gift Card" enabling the recipient to either link to a credit or debit card; use as e-gift code; or convert the value into a Visa Gift Card.
Additionally, giftya is the only platform in the industry that enables recipients to switch their gift for redemption with a different merchant than originally issued.
For small to mid-sized merchants who cannot afford to undertake a proprietary gift card offering, this provides them with the ability to offer a Visa gift option without the need for any additional system processing infrastructure, implementation, training or cost. For larger, national merchants, this provides another option to drive revenue to their existing gift offerings.
"giftya provides consumers with even more convenience and secure redemption options," said giftya founder and CEO, Jason Wolfe. "Additionally, it enables consumers to convert their giftyas to pay for more essential needs if they desire."
Ease of use -- Personalized -- Secure
Using the giftya mobile app or website, purchasers can personalize their giftya by uploading a photo, video and/or wrapper and record a message before securely texting their e-gift to loved ones and friends. Unlike physical gift cards, giftya's proprietary platform has no risk of loss or theft. Recipients are notified of their gift within seconds. Once recipients decide how they would like to redeem their giftya, the connected account is automatically credited the gift amount until the giftya is used in full. Additionally, for those that are environmentally conscious, using giftya at scale can cut thousands of tons of plastic gift cards from ending up in landfills, lessening the world's carbon footprint and the effect of physical gift cards on the climate.
ABOUT GIFTYA
Giftya, a Telos Gifting, LLC company, is reinventing gift giving with a meaningful no loss, no waste e-gift. Giftya enables you to text a personalized gift for any national or local merchant in the U.S. within seconds. Visit https://www.giftya.com for more information.