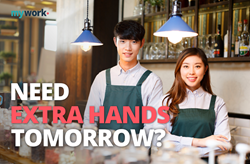 The primary benefit of the Gig Economy to both employers and jobseekers is flexibility, which has a direct influence on overhead costs – but it comes at the expense and risk of stability.
Singapore (PRWEB) August 03, 2017
In 2010, a research led by Emergent Research and Intuit examined the range of demographic, economic, social, and technological shifts affecting and changing the way we live and operate globally. One of the research' predictions, "a world where gig work is as common as traditional employment", has become a reality and is having a rippling effect across almost every industry. This trend is now more commonly known as the Gig Economy.
Recent studies conducted by Accenture, Microsoft, and UpWork, provide supporting data on how the Gig Economy trend has been growing steadily in the last 7 years. A 2014 study by Oxford Economics showed that "83% of executives surveyed say they are increasingly using consultants, intermittent employees, and contingent workers."
In Singapore, the results of a recent 2017 Graduate Employment Survey conducted by the Ministry of Education, supports this rising trend, showing a higher proportion of people taking on temporary jobs or gig work instead of permanent full-time ones after graduating.
The rise of gig work and its disruptive innovations continue to have a rippling effect across various industries, resulting to businesses and jobs evolving at a faster rate. An important question for businesses is, would these disruptions create opportunities for economic growth in Singapore or stifle it?
Executives ranked that the "lack of adequate leadership" willing to embrace the trend, as well as the "lack of adequate technology" to implement, are the top two impediments to adapting into the Gig Economy. Despite the obvious benefits and the increasing number of primary (full-time) and secondary (part-time) gig workers in Singapore, businesses have been slow to make the transition.
The long-established tasks of job posting, applicant screening, matching, hiring, done by recruitment agencies and online recruiting platforms are time-consuming, impractical, and costly for gig work. These traditional platforms also do not provide a way to monitor work output in real-time, especially with work that needs to be done locally. On top of these hurdles, Singapore businesses have a unique need of tapping into a specific labour niche, that of Singaporeans and Permanent Residents (PR).
In SBF's National Business Survey 2016/17, respondents nominated high operating costs (68%) and manpower issues (66%) as two of the biggest challenges they face in doing business. Manpower issues were broken down further as: rising labour costs, manpower rules and regulations, attracting and retaining younger workers.
Lawyer and Entrepreneur Rebecca Chiu saw these challenges, and in 2016 decided to establish MyWork Global with the aim of creating a platform that would aid businesses in Singapore that want to make the Gig Economy transition. Last April 2017, MyWork Global launched its mywork app. To date, the app now has over 50,000 verified Singaporeans and PR gig workers that businesses hire for ad-hoc tasks via their smartphone.
The rising Gig Economy trend, along with the release of the mywork app, has the potential to address Singapore's labour shortage and cost. Accenture's research highlights that having an ad-hoc workforce "delivered results faster and at lower cost than with conventional methods 60% of the time". An ad-hoc workforce is not only more efficient and cost-effective, but also grants organizations the ability to change rapidly, adapt, and even innovate in ways that were not possible before.
As aptly put by Rebecca Chiu, "The primary benefit of the Gig Economy to both employers and jobseekers is flexibility, which has a direct influence on overhead costs – but it comes at the expense and risk of stability. The Gig Economy, together with MyWork, mitigates these risks to stability."
mywork app provided solutions by implementing the following features:

Hire Staff On-Demand – Post a job in seconds, hire workers in minutes. The app automatically matches your post with available and qualified applicants.
GPS Timesheet Tracking – Automated tracking of workers' shift timings and payments.
Payslip Generator – Generate MOM-Compliant payslips every month end, inclusive of CPF computations.
Team Access – Provide controlled access for your team members who can help you manage and hire workers.
Reviews and Ratings - Our feedback system ensures performance standards are maintained by the whole community.
**Shift Scheduling – A soon-to-be-released feature allowing employers to build a complete work schedule in just a few taps with estimated labour costs.
MyWork Global has the current top Gig Economy app in Singapore due to its fast growing number of gig workers and holistic management features. Singapore-based businesses interested to get acclimated with the app and immediately cut labour expenses can schedule a free demo though MyWork's website myworkglobal.com, email at hello (at) myworkglobal (dot) com or call +(65) 6493 2133.
The future of work, the Gig Economy, has arrived in Singapore and early adopters are reaping the benefits. Businesses must embrace disruptive technological innovations, in order to remain efficient, competitive, relevant, and to address the labour shortage which may be the biggest challenge for Singapore's economic growth.