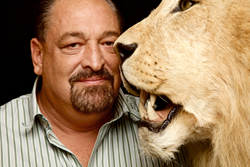 It is the largest auction of full-body trophy taxidermy mounts we have ever sold.
AUSTIN, Texas (PRWEB) May 16, 2021
A tribute to the late founder of the Taxidermy King, John Brommel, the gigantic auction of taxidermy from a museum, big game hunters, top taxidermists and items from John's private collection starts May 20th. The sale also includes objects from his famous store, The Corner Shoppe, Austin's oldest trading post, for which liquidation has begun. With over 1500 lots, including hundreds of full body mounts--94 from the museum alone--plus furniture, horns, western and Indian collectibles, will be the last sale for the company.
Brommel, who passed away unexpectedly in February, was nationally recognized for his expertise, and conducted three major auctions each year. "I don't think anyone knew as much as he did about this collecting field, he was a legend," said Rita Fennewald, Auction Coordinator for Taxidermy King. "This is our tribute to him."
Some significant items include Elephant tusks, 9 Leopards, three Lion rugs, a Polar Bear rug, a full body Moose with a 62" horn spread and a number of items from his personal collection, including a Lion which was a favorite. "It is the largest auction of full-body trophy taxidermy mounts we have ever sold," said Fennewald. She feels that whether you are looking for a great addition to your home decor or want to enhance your trophy room, they have some of the most unusual items to be found anywhere. The most unusual at this auction is an enormous Wooly Mammoth shoulder mount reproduction.
Brommel's iconic souvenir and Texas heritage store of 35 years had grown to be the largest selection of taxidermy in the United States. Now located at 8425 Burnet Road in Austin and closing in July, it specializes in everything from hides, Native American jewelry, full body mount and animal horns to western items. John's unique personality was reflected in how he managed to create this enterprise.
The sale includes hundreds of species from Squirrel to Wildebeest, antler lamps and chandeliers, Indian artifacts and jewelry, artwork, plus decorative and collectible western items. Other unusual items are a coiled Cobra in a glass case, 100 tanned Eel skins and a Monkey tree. Some full body mounts include Moose, Elk, Mule Deer, Sitatunga, Common Duiker, Springbok, Pheasant, Peacock, Turkey, Javalina, Civet Cat and numerous fish and birds. Shoulder mounts include Cape Buffalo, Eland, Topi, Gemsbok, Nyala, White Blesbok and others.
The auction is over 3 days starting at 10 am and conducted by Mark Thomas auctioneer #13784. Dates are Thursday, May 20th, Friday, May 21st and Saturday, May 22nd. There are three ways to bid: live at the auction house at 205 Farley Dr., Austin, Texas 78753, online at Proxibid.com or at hibid.com.
Photos and online preview is available now at the previous links noted and in-person public inspection/preview times is Wednesday, May 19th from 9 am-5 pm and Thursday from 8 am-10 am. Visit TaxidermyKing.com for more information. For questions about the auction, setting up phone and absentee bidding or shipping, call auctioneer Mark Thomas at 713-702-3666. Note: a buyer's premium will be charged, offer for sale void where prohibited by law and some items can only be purchased by Texas or U.S. residents.