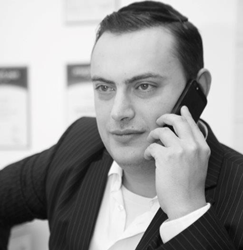 GIVAT SHMUEL, Israel (PRWEB) December 15, 2022
One of Israel's leading marketing, advertising and media solutions firms has recently expanded its operations, and moved into a new office in the Tel Aviv metropolitan area. Gil Digital, Israel's leading marketing agency for the Orthodox sector, has inaugurated its new offices in the city of Givat Shmuel with an official ceremony, held by the company's owner David Galperin. Among those who came to honor Galperin: Members of Knesset (the Israeli parliament) and other politicians, leading public and media figures and key religious leaders.
"This is an exciting moment for me," stated Mr. Galperin in his speech. "This move is not only for comfort and more space at the workplace, it is proof that our creative thinking and client-centric approach pays off. I would like to thank each and every one of our 920 clients, as well as Hashem for giving me the strength to grow and succeed."
Diversity - the key to tomorrow's marketing
Gil Group has managed to maintain an annual growth rate of approximately 20% in the past years, despite the effects of COVID-19 on the marketing sector. Having said that, Mr. Galerpin's successful ventures are not limited to Gil Group, and include companies such as SMPS Marketing, which specializes in sales process optimization, as well as Denefit IM Ltd., focused on investment opportunities in the real estate sector. Mr. Galperin is also a popular mentor and lecturer on marketing, finance, innovation and other topics.
"Gil Group got to where it is today because each and every one of the employees here, including myself, are not afraid of hard work," added Galperin. "Only that way can optimal results be achieved. Our clients already know it, but I will say it again: We will keep making every effort to provide them with the most effective marketing solutions, as we always have."
About David Galperin
A dominant figure in the marketing sector in Israel, David Galperin has been active in this field for over 20 years. Gil Group provides a wide array of marketing solutions, tailored to the needs of the Jewish Orthodox community. Galperin is professionally trained in marketing and advertising, with a certificate from the Association of Advertisers in Israel, and has studied investment consulting at the Ramat Gan College. Aside from that, Galperin is a well-known managerial coacher for individuals and groups
###