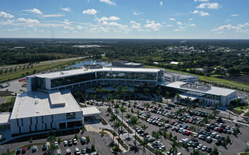 "It's been a long journey that required many years of thoughtful planning, but thanks to the incredible efforts of our staff, our partners, and the entire community, we can now celebrate this extraordinary hospital, which will save lives..." - Hospital Board Chairman Jim Meister
VENICE, Fla. (PRWEB) November 30, 2021
Gilbane Building Company is pleased to announce the successful completion of its Sarasota Memorial Hospital-Venice campus project. Gilbane provided preconstruction and construction management at-risk services for the new, state-of-the-art building bringing 5-star care conveniently closer to area residents.
"Our team at Gilbane is proud to deliver the highest standards in hospital facilities," said Heidi DeBenedetti, executive vice president of Gilbane Building Company. "Despite the strain of COVID-19 and its added consequences of supply chain interruptions, we stayed agile, flexible, and determined. The result is an exquisite new hospital built on time that will provide the utmost in quality patient care for the local community when it is needed the most."
Located at the intersection of Laurel and Pinebrook roads near I-75 in Venice, Florida, Sarasota Memorial Hospital-Venice features 110 private patient rooms, with ten spacious labor, delivery, recovery, postpartum (LDRP) birthing suites. The 5-story, 365,000 square-foot facility also includes a 28-bed Emergency Care Center with a stroke hub and two resuscitation rooms; 8 surgical suites (including robotics and two surgical suites dedicated for OB patients); 22-bed Intensive Care Unit (with a negative-pressure ventilation system that can convert all or a portion of the critical care pods into pandemic units if needed); an interventional radiology suite; cardiac catheterization/electrophysiology labs; endoscopy/bronchoscopy procedural suites; full array of diagnostics and imaging services; a breast health center; a dedicated cardiac care unit with 24/7 telemetry monitoring, as well as specially equipped units and services for orthopedic, oncology, nephrology, neurology/neurosurgery, pulmonary, urology, general/vascular surgery and other medical/surgical patients.
The 65-acre campus also incorporates a 400-car parking deck, surface parking for approximately 1,050 vehicles, a 25,000 SF energy plant, and a 60,000 SF medical office building. The campus is designed to be flexible and expandable, and work is already underway on a third patient care tower that will add 68 private patient suites. The design will allow Sarasota Memorial to double the size of its Emergency Care Center and surgical suites and expand up to 400 private patient rooms without disrupting hospital operations in future phases.
"This is truly a momentous milestone in Sarasota Memorial's 96-year history," Hospital Board Chairman Jim Meister said at a recent ribbon-cutting ceremony. "It's been a long journey that required many years of thoughtful planning, but thanks to the incredible efforts of our staff, our partners, and the entire community, we can now celebrate this extraordinary hospital, which will save lives and improve health and wellness throughout the region."
About Gilbane Building Company
Gilbane provides a full slate of construction and facilities-related services for clients across various markets, from preconstruction planning and integrated consulting capabilities to comprehensive construction management, general contracting, design-build, and facility management services. Founded in 1870 and still a privately held, family-owned company, Gilbane has more than 45 office locations worldwide. For more information, visit http://www.gilbaneco.com.
About Sarasota Memorial Health Care System
Sarasota Memorial Health Care System is a regional referral center offering Southwest Florida's greatest breadth and depth of care, with more than 1 million patient visits each year across its two hospital campuses, free-standing ER, and complete network of outpatient care centers. SMH-Venice is a 110-bed acute care hospital that opened in November 2021 to serve the growing south Sarasota County region. It offers a full array of medical and surgical care and seamless integration with the resources and expertise of the entire Sarasota Memorial Health Care System