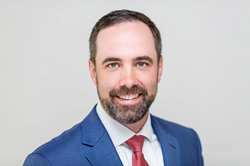 Matt has been with Gilbane for 15 years and has worked all-across the Mid-Atlantic. He understands our systems, our people and our culture, and embodies our core values.
WASHINGTON (PRWEB) June 01, 2020
Gilbane Building Company announces the promotion of Matt Sarver to vice president, Washington, DC business unit leader. Mr. Sarver is a 15-year Gilbane veteran who, as area manager in Richmond, most recently helped expand Gilbane's portfolio of work in the area and transitioned Gilbane's office to its new location in Scotts Addition. Under his leadership, Gilbane was recognized as a Best Place to Work by Virginia Business and the company's Richmond office doubled its revenue and expanded its client base. Colin Robinson succeeds Sarver as area manager, Richmond business unit leader.
In his new role, Mr. Sarver is responsible for client satisfaction, safety, project performance and recruitment and retention throughout the DC metro area. He began transitioning into his new role at the start of 2020. Mr. Sarver's deep experience working at Gilbane on a breadth of projects, that span multiple markets, positions him to lead Gilbane's Washington, DC office. Matt Sarver began his career at Gilbane as a project engineer. He has worked on a wide range of projects across Washington, DC, Maryland and Virginia; including the U.S. Capitol Dome Skirt Renovation, University of Maryland Physical Sciences Building, the National Academy of Sciences, 1717 Innovation Hub and the University of Virginia Emily Couric Clinical Cancer Center. Mr. Sarver received his B.S. in construction management from Pennsylvania College of Technology and currently sits on their Construction Management Advisory Committee. He was recently recognized by ENR Mid-Atlantic as a 2020 "Top Young Professional".
"Matt is the ideal fit to run our Washington, DC business unit," said Paul Choquette III, senior vice president, Mid-Atlantic division. "Matt has been with Gilbane for 15 years and has worked all-across the Mid-Atlantic. He understands our systems, our people and our culture, and embodies our core values. In his time managing our Richmond office he has shepherded the team to increase revenue two-fold, successfully engaged in new markets, brought on exceptional new team members, and ensured that our projects operate at the highest standard possible for our clients."
Gilbane Building Company's Washington, DC office is currently working on a variety of projects throughout the DC metro area, including but not limited to:

The Metro DC Headquarters
Falls Church City Public Schools, New George Mason High School
1550 First Street Apartments
Arlington Public Schools, Reed Elementary School
Modernization of the Martin Luther King Jr. Memorial Library, in a joint venture with Smoot Construction
About Gilbane Building Company
Gilbane provides a full slate of construction and facilities-related services – from pre-construction planning and integrated consulting capabilities to comprehensive construction management, close-out and facility management services – for clients across various markets. Founded in 1870 and still a privately held, family-owned company, Gilbane has more than 45 office locations around the world. For more information, visit http://www.gilbaneco.com