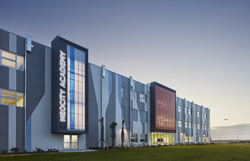 "Gilbane Building Company, not only met but far exceeded my expectations to deliver a learning environment that will serve the school district for years to come." -Michael Meechin, Principal, NeoCity Academy
ORLANDO, Fla. (PRWEB) October 26, 2020
Gilbane Building Company was pleased to receive the Central Florida Chapter Associated Builders and Contractors Project of the Year Award for NeoCity Academy. This distinguished honor exemplifies innovative, high-quality construction, superior safety standards and notable client satisfaction. This state-of-the-art project also promoted best practices in teamwork by owners, architects, and trade contractors which ushered in an additional accolade, the Excellence in Construction Eagle Award.
"Our project teams and partners have all worked incredibly hard to deliver this innovative facility for students, teachers, and the local community. It is because of their dedication to excellence that Gilbane can continue to be a leader in the K-12 market sector for both public and independent schools. The team, architect, client and trade partners are extremely deserving of this recognition," noted Heidi DeBenedetti, senior vice president of Gilbane Building Company.
As the first net-zero energy STEM high school in Florida, NeoCity Academy, a 45,000 SF campus hosts 650 self-ballasted solar panels that lead to 228kW of energy production. These structures generate more energy than the facility consumes with cost savings estimated at $115,000 per year. Through Gilbane's joint effort with the design team Little Diversified Architectural Consultants, the highly anticipated NeoCity Stem High School opened in the fall of 2019 on-time on and on-budget. The original schedule had an estimated duration of 12-13 months to allow for all the extensive testing requirements necessary for this technical project. By using lean strategies, the team was able to complete the project in under 10 months, proving that efficiency and sustainability can go hand-in-hand.
"As the Planning Principal and now Principal of NeoCity Academy, a 500‐student STEM Magnet in the School District of Osceola County, I have been engaged in the planning, design and construction of NeoCity Academy from day one," said Michael Meechin, Principal, NeoCity Academy. "This project pushed everyone involved out of their comfort zone and required the entire design and construction team to push their thinking and methodologies. Gilbane Building Company not only met but far exceeded my expectations to deliver a learning environment that will serve the school district for years to come."
About Gilbane Building Company
Gilbane provides a full slate of construction and facilities-related services – from pre-construction planning and integrated consulting capabilities to comprehensive construction management, general contracting, design-build and facility management services – for clients across various markets. Founded in 1870 and still a privately held, family-owned company, Gilbane has more than 45 locations worldwide. For more information, visit http://www.gilbaneco.com