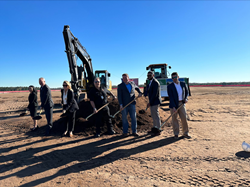 "The groundbreaking for this new school signifies our communities joining together by investing in the lives of our children and their future," said Osceola School District Superintendent Dr. Debra Pace.
KISSIMMEE, Fla. (PRWEB) February 14, 2023
Gilbane Building Company joined the School District of Osceola County (SDOC) to celebrate the groundbreaking for Sunbridge K-8, located in Kissimmee, FL. Attendees included Superintendent Dr. Deborah Pace, School Board Member Vice Chairwoman Erika Booth, Dave Sharma, Facilities Director, Ed Napier, Director of Construction Services, Zyscovich, Clint Beaty, Senior Vice President of Operations, Tavistock Development and Geoff Tucker, Operations Manager, Gilbane Building Company. SDOC recently selected Gilbane to provide Construction Management-at-Risk Services for the construction of a 3-story, concrete tilt-up school designed by Zyscovich, Inc., which will accommodate grades kindergarten through eighth grade. Gilbane has previously worked with the school district completing Tohopekaliga High School in 2018 and Neo City Stem Academy in 2019.
"We are excited to continue our great partnership with SDOC, Tavistock, Zyscovich, and Osceola County. Gilbane looks forward to delivering a revolutionary campus that will serve students, teachers, and our local community," said Geoff Tucker, Florida Operations Manager, Gilbane Building Company.
Sunbridge, a new region emerging from the developers of Lake Nona, Tavistock, encompasses more than 27,000 acres in both Orange and Osceola counties in the new Weslyn Park neighborhood. With the uptick in development, SDOC, Osceola County, and the developer felt the need to support the growing community and students with an innovative hi-tech K-8 school.
Sunbridge K-8 will feature a high-performance building envelop, totaling 159,700 SF. Construction will include a small mock-up structure (PE storage building) to facilitate high-performance testing. Sunbridge K-8 will showcase a standalone gymnasium building, and site amenities will consist of parent and bus loops with covered canopies and 200 parking spaces. Athletic facilities will consist of a 400-meter running track with a soccer infield, two full-size exterior basketball courts, and additional athletic amenities that will be shared with the community for after-hours use through the developer, Tavistock.
"The groundbreaking for this new school signifies our communities joining together by investing in the lives of our children and their future," said Osceola School District Superintendent Dr. Debra Pace.
About The School District of Osceola County
The Osceola School District is in the heart of Central Florida, with schools in Celebration, Kissimmee, St. Cloud, Poinciana, Harmony, and Kenansville. The district provides academic instruction, rigor, and support each school day to more than 69,000 students in kindergarten through 12th grade in 60 schools. Students in the Osceola School District represent 140 different countries and speak over 98 languages. More than 17,102 students (about 25 percent of the total student population) participate in the school district's English Speakers of Other Languages (ESOL) program.
About Gilbane Building Company:
Gilbane provides a full slate of construction and facilities-related services for clients across various markets, from preconstruction planning and integrated consulting capabilities to comprehensive construction management, general contracting, design-build, and facility management services. Founded in 1870 and still a privately held, family-owned company, Gilbane has more than 45 office locations worldwide.
Gilbane is an industry leader in Florida with a reputation for quality construction and client satisfaction. Gilbane has provided construction management services in Florida for over fifty years, working across a diverse portfolio of markets including office buildings, public assembly/sports, healthcare, life sciences, data centers, K-12, higher education, medical offices, industrial, government, and multi-family developments. For more information, visit http://www.gilbaneco.com.