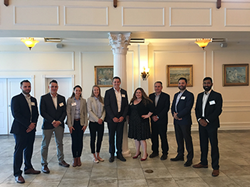 GLASTONBURY, Conn. (PRWEB) October 03, 2019
When it comes to construction in Connecticut since 1944, few firms have successfully built more projects, in more towns and cities, than Gilbane Building Company. From award-winning K-12 public schools, to office renovations for Fortune 500 companies, to many of Connecticut's landmark venues such as the CT Convention Center, Rentschler Field, and the former New Haven Coliseum, Gilbane has helped shape the experience of how Connecticut communities learn, work, and play since the end of World War II.
This month marks 75 years as one of the top construction management firms in the state. With offices in Glastonbury and Stamford, Gilbane covers all four corners of Connecticut and all points in between. Founded in 1873 in Rhode Island, Gilbane first arrived in Connecticut in 1944, completing a construction project for the University of Connecticut (UConn). To this day, Gilbane continues to enjoy a strong partnership with UConn as they help oversee all of the current campus capital projects.
Over the years the construction industry has not been immune to the impacts of economic cycles. The fact that Gilbane has remained atop the industry in Connecticut is a testament to its core values and the quality of employees who have delivered the long list of impressive projects. "We proudly use the slogan 'Building More Than Buildings' for a reason. Our success over the past 75 years is a direct result of our dedication to excellence and client satisfaction. This anniversary is a celebration of a collective focus by Gilbane to make sure our clients receive the expert construction services they deserve and expect," said John Hawley, Connecticut Business Unit Leader.
Pleased clients make satisfied employees. Capping off its 75th anniversary, Gilbane has been awarded a Top Workplace 2019 honor by The Hartford Courant. The award is based solely on employee feedback gathered earlier this year through a third-party survey, administered by research partner Energage, LLC. The anonymous survey measured several aspects of workplace culture, including alignment, execution, and connection, just to name a few. Eric Cushman, Gilbane's Operations Manager in Connecticut, reflected on the exciting news, "Our successful history building in Connecticut is attributed to the tremendously talented teams we have. This award demonstrates just how great our staff really is."
About Gilbane Building Company
Gilbane provides a full slate of construction and facilities-related services – from pre-construction planning and integrated consulting capabilities to comprehensive construction management, general contracting, design-build and facility management services – for clients across various markets. Founded in 1873 and still a privately held, family-owned company, Gilbane has more than 45 office locations worldwide. For more information, visit http://www.gilbaneco.com.
A builder in Connecticut since 1944, Gilbane has grown to become one of the largest providers of construction management services in the state. With full-service offices in Glastonbury and Stamford, Gilbane is a leader in the delivery of comprehensive pre-construction services, construction services and construction administration for the public and private markets.