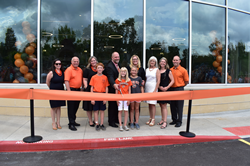 CHAGRIN FALLS, Ohio (PRWEB) August 19, 2019
Gilbane Building Company is proud to announce the successful completion of the Chagrin Falls Exempted Village School District Intermediate School Renovation and Expansion project. On Saturday, August 17, Gilbane Building Company, students, teachers and staff from Chagrin Falls and members of the community came together to celebrate the opening of the new facility.
The Chagrin Falls Intermediate School project consisted of historic renovations to the 1914 original high school, the 1940's gymnasium and auditorium, as well as construction of a new three-story classroom wing. The Intermediate School is situated within the historic village of Chagrin Falls and is adjacent to the Historical Society, historic homes and an active business community.
The renovation restored and retained most of the historical elements of the original school, while also adding new modernized classrooms for 21st century-style learning. The building was designed to create more connected spaces, flexible learning spaces as well as an area for outdoor learning. In addition to serving as a center for education, the school is also a gathering place for the entire community.
"Gilbane was proud to partner with Chagrin Falls Schools on this exciting program! The support of the community, faculty, staff and Board of Education has been phenomenal, and it was exciting to see all the students, families and community members turn out for the dedication ceremony." – Keri Ash, Gilbane Building Company Senior Project Manager
Gilbane Building Company served as construction manager on this 89,000 SF renovation and expansion project. The new intermediate school is an investment in the Chagrin Falls community that will have a positive impact on the lives of both current and future students.
About Gilbane Building Company
Gilbane provides a full slate of construction and facilities-related services – from pre-construction planning and integrated consulting capabilities to comprehensive construction management, general contracting, design-build and facility management services – for clients across various markets. Founded in 1873 and still a privately held, family-owned company, Gilbane has more than 45 office locations worldwide. For more information, visit http://www.gilbaneco.com. Gilbane has been providing construction management services in Ohio since 1957.