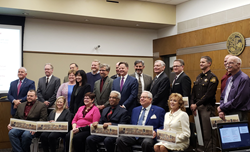 ROCK ISLAND, Ill. (PRWEB) December 04, 2018
Village of Rock Island officials, the judiciary, community members, Gilbane Building Company, Valley Construction Company, DLR Group and trade contractors gathered on Monday to celebrate the grand opening of the $28 million Rock Island Justice Center Annex II. The community celebrated this significant milestone with a ribbon cutting ceremony at the new facility.
"The Rock Island Justice Center Annex II adds four new courtrooms for the 14th Judicial Circuit Court of Illinois and allows the court to function more efficiently," said Tom Leonard, Gilbane Building Company Senior Project Executive. "Gilbane has enjoyed working with the County on this project, and we look forward to continuing our partnership with the County on future projects in Rock Island."
Gilbane provided construction management at-risk services for the new three-story courthouse addition to the existing Rock Island Justice Center in downtown Rock Island. The new 47,954 SF courthouse addition houses the State's Attorney's Office, Circuit Clerk's Office, judges' chambers, administration offices for the judicial system, as well as four courtrooms, two for traffic court, one for civil hearings and one for domestic violence.
About Gilbane Building Company
Gilbane provides a full slate of construction and facilities-related services – from pre-construction planning and integrated consulting capabilities to comprehensive construction management, general contracting, design-build and facility management services – for clients across various markets. Founded in 1873 and still a privately held, family-owned company, Gilbane has 48 office locations worldwide. For more information, visit http://www.gilbaneco.com.
Gilbane has two permanent offices located in Chicago, as well as an extensive knowledge of the Chicagoland market including construction processes, area subcontractors/suppliers, local M/WBE contractors, and familiarity with Chicago jurisdictional authorities. With 40 years of success in the highly competitive Chicagoland market, Gilbane is committed to continuing the strong tradition of excellence in the Chicago construction industry.