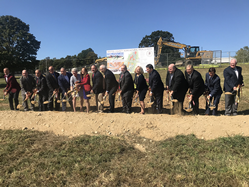 DIGHTON, Mass. (PRWEB) September 26, 2019
On September 20th, administrators from Bristol County Agricultural High School, alongside state and local officials, joined representatives from Gilbane Building Company, HMFH Architects, students, members of the community, and a herd of onlooking dairy cows to celebrate the official groundbreaking of the Bristol Country Agricultural High School campus expansion and renovation project.
Slated for completion in the fall 2021, the project will add approximately 196,000 square feet to the campus footprint and includes the construction of three new buildings, as well as the complete renovation of Gilbert Hall and the agricultural mechanics building. The expansion will allow the school to increase its enrollment capacity from 450 to 600 students.
"Our goal with the expansion and renovation is to become a hub of agricultural and environmental research, conversation, and invention for the Commonwealth and beyond," said Superintendent Adele Sands. "We're thrilled to be partnered with Gilbane on this venture and have full confidence in the collaborative team they have assembled for this project."
The largest of the new buildings, the Center for Science and the Environment, will house the animal science, natural resources, and environmental science programs once complete, but will also accommodate all classes being held in Gilbert Hall as it undergoes its complete renovation. Other new buildings include a Student Commons and a state-of-the art robotic dairy barn.
"Bristol Aggie is special place. The culture that the students and staff have created is one of innovation, curiosity, and collaboration. We're very excited to be immersed in this culture as a partner in this extraordinary project that is an undeniable investment in the school's future."– Mike O'Brien, Vice President and Massachusetts Business Unit Leader
About Gilbane Building Company
Gilbane provides a full slate of construction and facilities-related services – from pre-construction planning and integrated consulting capabilities to comprehensive construction management, general contracting, design-build and facility management services – for clients across various markets. Founded in 1873 and still a privately held, family-owned company, Gilbane has more than 45 office locations worldwide. For more information, visit http://www.gilbaneco.com. Gilbane has been providing construction management services in Ohio since 1957.