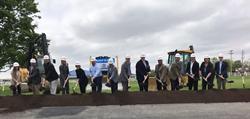 ENGLEWOOD, Ohio (PRWEB) May 13, 2019
Officials from Miami Valley Career Technology Center (MVCTC), Gilbane Building Company, state and local officials, students and staff recently came together to celebrate the official groundbreaking for the complete transformation of the Miami Valley Career Technology Center to create the largest K-12 building being administered by the OFCC in the State of Ohio.
Gilbane is providing construction management at-risk services for the expansion of the Miami Valley Career Technology Center. The existing campus consists of three main buildings (West, East and South) and several smaller structures that support both educational and building services. The project will consist of renovating more than 139,000 SF of the existing West Building over three phases for enhanced programs such as healthcare, cosmetology and the student activity center/food service area. Approximately 431,000 SF of additions to the West Building will include two stories of new classroom space, as well as a new maintenance building and high bay learning areas for aviation maintenance, precision machining, welding, diesel, carpentry and HVAC.
All work on campus will be performed around existing operations and large portions of the campus will remain open while work is ongoing. The MVCTC will continue to operate normally throughout the remodeling and expansion project. As always, student and staff safety will be a priority.
"The MVCTC is proud to be partnering with Gilbane Building Company. When the district went through the CMR selection process, there were many qualified companies. Gilbane Building Company demonstrated that they understood our unique facility needs and committed to work as part of a team to build a safe, highly-functional, and efficient building. So far, they have exceeded our expectations. We look forward to starting the construction phase and continuing to build our relationship," said Dr. Nick Weldy, MVCTC Superintendent
"Our project team has enjoyed the working relationship we've developed with Miami Valley Career Technology Center, Garmann/Miller & Associates, Ohio Facilities Construction Commission and local authorities on this project to date. Gilbane is very anxious to get the actual work started in the field and have the project underway. The MVCTC project is a huge win for Gilbane in many ways, and we look forward to continuing to show the district why they chose our team. We have a strong, local team and look forward to continuing to engage with the students on site and the community as the project progresses," said Matt Niemeyer, Gilbane Building Company Senior Project Manager
About Gilbane Building Company
Gilbane provides a full slate of construction and facilities-related services – from pre-construction planning and integrated consulting capabilities to comprehensive construction management, general contracting, design-build and facility management services – for clients across various markets. Founded in 1873 and still a privately held, family-owned company, Gilbane has more than 45 office locations worldwide. For more information, visit http://www.gilbaneco.com.
Gilbane is one of the most experienced builders in the Central Midwest market and is currently one of the largest construction managers in the Columbus market. Our established relationships with area subcontractors/suppliers, local and state authorities, M/WBE contractors and top design and engineering professionals have resulted in satisfied clients and repeat business throughout the state. With more than 50 years of success in the highly competitive construction market, Gilbane is committed to continuing the strong tradition of excellence in the Ohio construction industry.
About Miami Valley Career Technology Center
Currently, the MVCTC serves 27 area high schools, in five counties and their communities. MVCTC offers over 40 career technical programs for high school juniors and seniors, educational opportunities for adult students, and career technical programming at 18 partner district satellite locations working with grades 6 through 12. Working with local business and industry partners, MVCTC helps attract and create jobs for the region's economic growth. For more information about MVCTC, please visit http://www.mvctc.com.