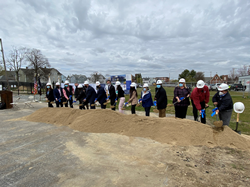 PAWTUCKET, R.I. (PRWEB) April 19, 2021
Officials from the Pawtucket School District, the State of Rhode Island, and the City of Pawtucket joined representatives from Colliers, The S/L/A/M Collaborative, and Gilbane Building Company to celebrate the official groundbreaking of the 93,000-SF Henry J. Winters Elementary School in Pawtucket, Rhode Island.
Henry J. Winters Elementary School will welcome 600 plus students in grades pre-K through fifth upon its completion in 2022. Through purposeful design, the school will offer Pawtucket's youngest learners an enriching environment for learning infused with science, technology, engineering, arts, and mathematics components to bolster 21st century learning.
During his ceremonial remarks, Rhode Island General Treasurer Seth Magaziner noted, "Every child deserves facilities that are warm, safe and dry and that prepare them for a future of success. As a former public school teacher, I know firsthand the deep and lasting impacts facilities can have on a student's ability to learn. I am pleased that the statewide school construction plan we enacted has delivered millions of dollars to the Winters School project and dozens of other projects across the state, and I congratulate the City of Pawtucket on being a leader in putting these resources to work."
The new elementary school will be a welcomed addition to the neighborhood and play a large role in Pawtucket's ongoing revitalization. Considerations for a student drop-off area with optimal traffic flow, increased security measures, as well as energy efficient HVAC systems have all been incorporated into the building's design and will provide students and staff with a state-of-the-art facility in which to teach and learn.
The Henry J. Winters Elementary School is slated for completion by the summer of 2022.
About Gilbane Building Company
Gilbane provides a full slate of construction and facilities-related services – from pre-construction planning and integrated consulting capabilities to comprehensive construction management, general contracting, design-build and facility management services – for clients across various markets. Founded in 1870 and still a privately held, family-owned company, Gilbane has more than 46 office locations worldwide. For more information, visit http://www.gilbaneco.com.