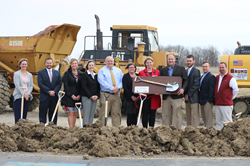 NEW BREMEN, Ohio (PRWEB) March 29, 2019
Officials from New Bremen Local School District, Gilbane Building Company, Garmann/Miller & Associates, Ohio Facilities Construction Commission and students recently came together to celebrate the official groundbreaking for the new elementary facility that will provide a modern learning environment for future generations of students in grades K-6.
Gilbane is serving as construction manager for the new 71,000 SF, state-of-the-art elementary facility, which will be connected to the existing high school. All classrooms will be grouped by grade level with innovative technology and extended learning center spaces outside of the traditional classrooms. The student dining area will be used as a multi-purpose space with a sports floor. The media center, computer lab, art and music rooms surround the interior courtyard, which will be used as a safe outdoor learning space.
"Gilbane is extremely excited to be a part of the New Bremen School project team; however, our team members are especially excited," said Matt Neimeyer, Gilbane Building Company Project Manager. "We have three team members that live in the district or in a neighboring district and let me tell you, in construction, that does not happen often. Our team has a vested interest in the success of the project and will remain in the community for years to come and are excited to build in the community we live in! We look forward to getting this project started and continuing our engagement with the district and in the community."
The project also includes additional renovations to the existing high school, parking lot repairs and abatement/demolition of the existing elementary school.
About Gilbane Building Company
Gilbane provides a full slate of construction and facilities-related services – from pre-construction planning and integrated consulting capabilities to comprehensive construction management, general contracting, design-build and facility management services – for clients across various markets. Founded in 1873 and still a privately held, family-owned company, Gilbane has more than 45 office locations worldwide. For more information, visit http://www.gilbaneco.com.
Gilbane is one of the most experienced builders in the Central/Midwest market and is currently one of the largest construction managers in the Columbus market. Our established relationships with area subcontractors/suppliers, local and state authorities, M/WBE contractors and top design and engineering professionals have resulted in satisfied clients and repeat business throughout the state. With more than 60 years of success in the highly competitive construction market, Gilbane is committed to continuing the strong tradition of excellence in the Ohio construction industry.