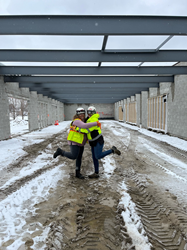 WAUKEGAN, Ill. (PRWEB) January 30, 2023
LEARN Charter School Network and Gilbane Building Company recently achieved a significant milestone for the LEARN 9 Waukegan Charter School. The topping-out milestone marks the completion of the steel structure for the new classroom addition in Waukegan, Illinois.
"Gilbane is proud of the entire project team for achieving this critical milestone on schedule and with no safety incidents, said Dan Sullivan, Gilbane Building Company project executive. "We look forward to progressing with the construction of the new addition and continuing to support the LEARN 9 Waukegan Charter School community."
The classroom addition is being built adjacent to the existing K-8 facility and will include the addition of eight classrooms as well as renovations of existing classrooms, kitchen, staff offices, and the front entrance. The project also includes site improvements that will feature a new ring road, front entry, playing fields, and stormwater improvements. Upon completion, the addition will create expanded and enhanced learning environments for students, teachers, and faculty members.
About Gilbane Building Company
Gilbane provides a full slate of construction and facilities-related services – from preconstruction planning and integrated consulting capabilities to comprehensive construction management, general contracting, design-build, and facility management services – for clients across various markets. Founded in 1870 and still a privately held, family-owned company, Gilbane has more than 45 office locations worldwide. Since 1978, Gilbane has delivered innovative construction solutions in Chicago for clients across multiple market sectors, including healthcare, higher education, K-12, public sector, corporate and interiors, developer, residential, life sciences, and industrial.