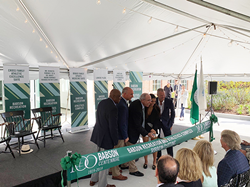 BOSTON (PRWEB) October 03, 2019
Babson College students, faculty, staff, alumni, donors, and friends joined representatives from Gilbane Building Company and the community to celebrate the ribbon cutting ceremony and official opening of the new Babson Recreation and Athletics Complex (BRAC).
Gilbane provided construction management services for the 75,000-square-foot addition and renovation that nearly doubled the footprint of Babson's wellness center. The focal point of the new facility is the 10,000-square-foot, two-story fitness center which features cardio and strength-training suites, as well as multipurpose rooms and a new recreation space with three basketball courts.
"The entire Babson College community is thrilled by the addition of the new Recreation and Athletics Complex (BRAC) facility to our campus. This world-class facility not only enriches our athletic program, but our campus community as a whole. The Gilbane team understood and supported this vision for community and worked in tandem with us throughout the construction process. The outcome is a topnotch facility that supports the health and well-being of our students, as well as all members of the Babson community." - Janet Fishstein, AVP, Facilities Management & Construction, Babson College
The BRAC project also included upgrades to varsity and recreational locker rooms, improved athletic office suites, and a new state-of-the-art sports medicine area highlighted by hot and cold hydrotherapy tubs.
"As the builder of this state-of-the art facility, we are proud to have played a part in Babson's tremendous investment in its campus community and student life," said Mike O'Brien, business unit leader of Gilbane's Massachusetts office. "This project exemplified our collaborative approach to our work and we're thrilled to continue our long-standing relationship with Babson College."
About Babson College
Babson College is the educator, convener, and thought leader of Entrepreneurship of All Kinds®. The top-ranked college for entrepreneurship education, Babson is a dynamic living and learning laboratory where students, faculty, and staff work together to address the real-world problems of business and society. We prepare the entrepreneurial leaders our world needs most: those with strong functional knowledge and the skills and vision to navigate change, accommodate ambiguity, surmount complexity, and motivate teams in a common purpose to make a difference in the world, and have an impact on organizations of all sizes and types. As we have for nearly a half-century, Babson continues to advance Entrepreneurial Thought & Action® as the most positive force on the planet for generating sustainable economic and social value.
About Gilbane Building Company
Gilbane provides a full slate of construction and facilities-related services – from pre-construction planning and integrated consulting capabilities to comprehensive construction management, general contracting, design-build and facility management services – for clients across various markets. Founded in 1873 and still a privately held, family-owned company, Gilbane has more than 45 office locations worldwide. For more information, visit http://www.gilbaneco.com. Gilbane has been providing construction management services in Ohio since 1957.