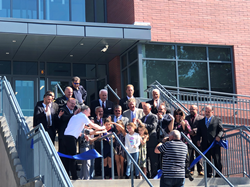 PROVIDENCE, R.I. (PRWEB) October 09, 2019
Officials from the North Providence School District and the state of Rhode Island joined representatives from Gilbane Building Company, The S/L/A/M Collaborative, students, teachers, parents, and members of the community to celebrate ribbon cutting ceremonies for the James L. McGuire and Stephen Olney Elementary Schools on September 28th and October 5th respectively.
The new, 63,000-square-foot James L. McGuire Elementary School includes 18 classrooms, various enrichment areas, and a combined cafeteria/auditorium. As part of the district's commitment to increased security measures, the facility also includes a secured reception area with ballistic glass.
The 62,504-square-foot Stephen Olney Elementary School also includes 18 classrooms, six enrichment rooms, a combined cafeteria/auditorium, and 10 learning commons for collaborative group work. Security measures include secured main entrance doors with lock down and containment capabilities.
Gilbane served as construction manager at-risk for the $75 million district-wide school improvements program, which in addition to constructing the Olney & McGuire Schools also included health and safety upgrades at the other six schools in town; Centredale Elementary School, Greystone Elementary School, Whalen Elementary School, Birchwood Middle School, Ricci Middle School, and North Providence High School. To ensure the district received the best cost options for each building component and the project adhered to its budget, Gilbane was heavily involved throughout the design phase and the new schools are built to exceed the standards set forth by the Northeast Collaborative for High Performance Schools (NE-CHPS).
In her remarks at the Stephen Olney ribbon cutting on October 5th, Commissioner Angelica Infante-Green noted that, "The building matters, but what happens in the classroom is where the magic happens," as she thanked teachers for their continued support in North Providence's mission.
"These schools are a true investment in the future of education in North Providence and the town's commitment to its students is evidenced in the genuine partnership and collaboration exhibited by the entire team," notes Gilbane Vice President and RI Business Unit Leader John Sinnott. "Gilbane is proud to be a member of this team and we believe this program will serve as a model for the next generation of schools in Rhode Island."
About Gilbane Building Company
Gilbane provides a full slate of construction and facilities-related services – from pre-construction planning and integrated consulting capabilities to comprehensive construction management, general contracting, design-build and facility management services – for clients across various markets. Founded in 1873 and still a privately held, family-owned company, Gilbane has more than 45 office locations worldwide. For more information, visit http://www.gilbaneco.com.