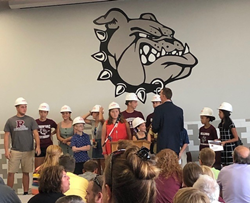 ROSSFORD, Ohio (PRWEB) August 19, 2019
Gilbane Building Company is pleased to announce the completion of the new state-of-the-art elementary school for Rossford Schools. On Saturday, August 17, officials from Rossford Schools, Gilbane Building Company and the community came together to celebrate the ribbon cutting for the new school.
Construction for the elementary school took place on the Glenwood site and consisted of renovations and an addition to the existing building. The new elementary school now houses all PK-5 students in the district. Gilbane served as construction manager at-risk for the 14,000 SF renovation and the 72,000 SF new addition. Construction took place on an active campus, and the renovations were completed in two phases. The first phase was completed over the summer of 2018, and the second phase started at the beginning of the 2019 summer. The school now has flexible classrooms, a new library, gymnasium and cafeteria.
"Our project team has enjoyed the working relationship we've developed with Rossford Schools, Program Solutions Group, The Collaborative, Inc. and the local Rossford community on this project. We are honored to provide a new home for the students of Rossford Schools for years to come." – Chad Stevers, Gilbane Building Company Senior Project Executive
In addition to the elementary school, Gilbane is also working on two other facilities for the Rossford Exempted Village School District including a new junior high and high school for grades 6-12. This project includes 45,000 SF renovation to the historic Rossford High School and a 144,000 SF addition that will house classrooms, administration offices and two competition gyms. Gilbane is also constructing the new football stadium that consists of new turf, bleachers, press box, concession stands and state-of-the-art lights.
About Gilbane Building Company
Gilbane provides a full slate of construction and facilities-related services – from pre-construction planning and integrated consulting capabilities to comprehensive construction management, general contracting, design-build and facility management services – for clients across various markets. Founded in 1873 and still a privately held, family-owned company, Gilbane has more than 45 office locations worldwide. For more information, visit http://www.gilbaneco.com. Gilbane has been providing construction management services in Ohio since 1957.