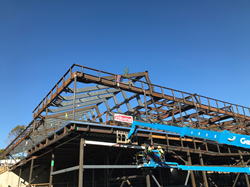 WESTBOROUGH, Mass. (PRWEB) October 14, 2020
Officials from the Westborough School District joined representatives from Gilbane Building Company and HMFH Architects on October 9, 2020 to celebrate the official topping out of the town's new 70,000-SF elementary school. This is the second K-12 school Gilbane has constructed for the town, the first being the 110,000- SF Sarah Gibbons Middle School completed in 2017.
Designed by HMFH to achieve net-zero energy use, the new school includes a highly efficient building enclosure, geothermal heating and cooling, low wattage LED fixtures, and centralized energy management to reduce energy use to one-third of what is used by a typical school building. The facility will accommodate approximately 400 students in grades kindergarten through third and will be the first completed towards the Town's goal to be carbon-emissions free by 2040.
The all-electric new school is being constructed adjacent to the existing facility, which requires expert coordination on behalf of the Gilbane team to ensure the safety of students and faculty, as well as the surrounding community. Along with standing non-negotiable safety protocols for minimizing the effect of disruptive construction activities in a tightly settled area, the Gilbane team adapted to the current COVID-19 crisis by implementing strict health and wellness protocols that ensure the safety and cleanliness of the job site.
"We're so grateful to the Westborough community for allowing us the opportunity to build this amazing new school - our second collaboration with the town," said Mike O'Brien, senior vice president and Massachusetts business unit leader for Gilbane. "We're inspired by Westborough's leadership in sustainability and feel honored to be part of that legacy as we efficiently deliver this school on schedule."
About Gilbane Building Company
Gilbane provides a full slate of construction and facilities-related services – from preconstruction planning and integrated consulting capabilities to comprehensive construction management, general contracting, design-build and facility management services – for clients across various markets. Founded in 1870 and still a privately held, family-owned company, Gilbane has more than 50 office locations worldwide. For more information, visit http://www.gilbaneco.com.