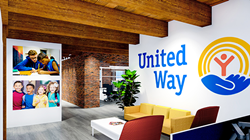 BOSTON (PRWEB) November 13, 2020
Gilbane's Boston Interiors Group recently completed the 9,595-square-foot fit-out of United Way of Massachusetts Bay's new headquarters at 9 Channel Center Street in Boston, Massachusetts.
Designed with flexibility of useable space in mind by Margulies Perruzzi, the interior renovation of the historic industrial building included the addition of operable room partitions that allow for various configurations depending on the need, glass fronts, furniture, millwork, minor MEP upgrades, and lighting. The modernized space reflects United Way's forward-thinking culture while also maintaining the historic elements of the original building, such as exposed brick and wooden beams. To ensure the comfort of all tenants, the team installed insulated padding below carpet tiles for added acoustic absorption.
Despite a pause in operations due to the COVID-19 pandemic, the Gilbane team adapted to associated challenges and increased safety measures to ensure the project was delivered successfully and on time.
"The collaboration and perseverance exhibited by the project team as they worked through the challenges associated to the pandemic was outstanding and we're happy to welcome the United Way team to the Channel Center neighborhood," said Mike O'Brien, vice president and business unit leader for Gilbane in Massachusetts. "A commitment to serving the communities in which we live and build is embedded into the Gilbane culture, and our team has a long-standing relationship with the United Way."
About Gilbane Building Company
Gilbane provides a full slate of construction and facilities-related services – from pre-construction planning and integrated consulting capabilities to comprehensive construction management, general contracting, design-build and facility management services – for clients across various markets. Founded in 1870 and still a privately held, family-owned company, Gilbane has 48 office locations worldwide. For more information, visit http://www.gilbaneco.com.