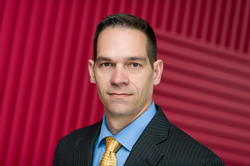 He has spent his entire career in Richmond and has an in-depth understanding of the Virginia market.
RICHMOND, Va. (PRWEB) June 01, 2020
Gilbane Building Company announces the promotion of Colin Robinson to area manager, Richmond business unit leader. Mr. Robinson is a 24-year industry veteran who, while at Gilbane, has helped deliver some of Richmond's most iconic buildings, including the Virginia State Capitol renovation, Altria Theater, and Carpenter Theater. Mr. Robinson succeeds area manager, Matt Sarver, who is transitioning into his new role as vice president, Washington, DC business unit leader.
Over the last 20 years Mr. Robinson has filled various roles with Gilbane, all in the Virginia market, with the last three years served as senior project executive for the Richmond office. His deep understanding of the market and record delivering on client expectations makes him a perfect fit to lead Gilbane's growth in the Virginia market. Under Colin's leadership, Gilbane plans to continue its investment in the Richmond market, building on its existing experience in the higher education, commercial and public markets. Colin received his B.S. in Psychology from James Madison University and began his career with Gilbane in 2000 as a project engineer in the Richmond office.
"Colin has led our teams in Richmond on some of the most complex and technical projects Gilbane has ever completed and has a tremendous commitment to his clients," said Paul Choquette III, senior vice president, Mid-Atlantic division. "He has spent his entire career in Richmond and has an in-depth understanding of the Virginia market. We are excited for Colin to step into this new leadership role as we continue to expand our presence in Virginia."
Gilbane Building Company's Richmond office is currently working on a variety of projects throughout Virginia, including but not limited to:

Virginia Department of General Services, New General Assembly Building
Westminster Canterbury Richmond Expansion
About Gilbane Building Company
Gilbane provides a full slate of construction and facilities-related services – from pre-construction planning and integrated consulting capabilities to comprehensive construction management, close-out and facility management services – for clients across various markets. Founded in 1870 and still a privately held, family-owned company, Gilbane has more than 45 office locations around the world. For more information, visit http://www.gilbaneco.com