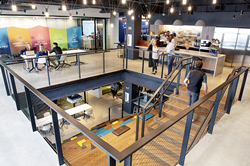 BOSTON (PRWEB) July 15, 2019
Gilbane Building Company's Boston office recently completed construction management services for the 117,000 square foot Cengage office at Pier 4 in the Seaport District. Cengage, a global education and technology company, relocated from Fort Point's Channel Center to the distinctive Block L4 Tower, where its multi-floor office features a dynamic workspace designed to encourage collaboration and spontaneous interactions among its nearly 600 Boston-based employees.
"Gilbane's commitment to a partnership approach ensured alignment on this project and the resulting space exceeded our expectations," said Steve Gibson, senior vice president of real estate, facilities and procurement for Cengage. "Our employees are excited about the new office which facilitates collaboration and provides ample opportunity for working together in line with our culture."
The new open floor plan features an interconnecting staircase, executive seating, meeting/conference rooms, general office space and a private outdoor terrace, featuring state-of-the art infrastructure and eco-friendly appliances and fixtures. The space is thoughtfully designed with sustainable systems and finishes, from activated lighting to bio-based products, to furniture and carpet with the lowest Volatile Organic Compounds (VOCs) possible.
"Cengage consistently receives recognition for its work culture and Gilbane is extremely proud to have helped bring this stunning headquarters to life," said Mike O'Brien, head of Gilbane's Boston office. "The space underscores Cengage's culture of collaboration and will no doubt advance the company's mission to attract the best and brightest employees."
About Gilbane Building Company
Gilbane provides a full slate of construction and facilities-related services – from pre-construction planning and integrated consulting capabilities to comprehensive construction management, general contracting, design-build and facility management services – for clients across various markets. Founded in 1873 and still a privately held, family-owned company, Gilbane has 48 office locations worldwide. For more information, visit http://www.gilbaneco.com.
Gilbane has served as a leading construction manager in Northern New England for nearly 50 years serving private and public clients throughout the region including Bank of America, the University of New Hampshire and Concord Hospital, to name a few. For more information, visit Gilbane's website at http://www.gilbaneco.com/boston.
About Cengage
Cengage is the education and technology company built for learners. As the largest US-based provider of teaching and learning materials for higher education, we offer valuable options at affordable price points. Our industry-leading initiatives include Cengage Unlimited, the first-of-its-kind all-access digital subscription service. We embrace innovation to create learning experiences that build confidence and momentum toward the future students want. Headquartered in Boston, Cengage also serves K-12, library and workforce training markets around the world. Visit us at http://www.cengage.com or find us on Facebook or Twitter.