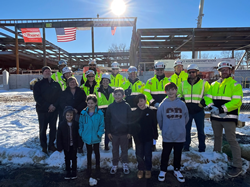 GROTON, Mass. (PRWEB) January 31, 2023
Officials from Groton Public Schools, the Commonwealth of Massachusetts, and the Town of Groton joined students, educators, and representatives from Leftfield, Studio G Architects, and Gilbane Building Company to celebrate the official topping off of the 110,000-SF Florence Roche Elementary School.
Designed by Studio G, with Leftfield serving as owner's project manager and Gilbane as construction manager, the new facility will address growing concerns regarding the state of the existing facility, originally constructed in the 1950s, and accommodate 645 students in grades kindergarten through four.
During ceremonial remarks, Jack McCarthy, executive director of the Massachusetts School Building Authority (MSBA), noted the continued success of the project team, commending the Town of Groton in assembling the collaborative team of Leftfield, Studio G, and Gilbane. "I have no doubt that this project will be completed on time and successfully," he said. "Because that is what these three organizations do for us all over the Commonwealth."
The new school will support 21st-century learning and Universal Design for Learning (UDL), two important components of Groton Dunstable Regional School District's educational program. The two-story design organizes grade-level learning neighborhoods into two academic wings with shared project areas, dedicated special education rooms, and support spaces. In addition, the cafeteria and gymnasium are located off the entry lobby for easy public access and feature a shared stage for performances in either area. Other shared learning spaces include a media center, an outdoor learning lab, a STEM lab with an outdoor patio for student projects, and music and art classrooms.
"This satisfying moment is a reminder of the intense diligent early work with our consultants EDG and RW Sullivan," said Steve Michener, associate and senior project manager from Studio G Architects. "This topping off ceremony represents more than just the completion of an efficiently designed and well-coordinated structure; it is the canvas for a symphony of work to begin in all directions. We look forward to continuing great teamwork with Gilbane and Leftfield to deliver the new Florence Roche Elementary School for the community of Groton."
Since the start of construction in May of 2022, the project has maintained its schedule with over 34,000 safe and incident free trade hours. In achieving this important project milestone, the team took a collaborative approach in expediting the steel shop drawing review and approval periods to support the start of steel erection three weeks earlier than planned. This allowed the approximately 2,500 pieces, or 700 tons, of structural steel frame to be erected ahead of the New England winter months.
"We're thrilled to successfully reach this very important construction milestone with the Town of Groton," said Mike O'Brien, senior vice president and business unit leader for Gilbane in Massachusetts. "Topping off ceremonies are especially important, as they are a real celebration of our trade partners and I'd like to specifically commend the hard work that got us to this point by the men and women from Locals 429, 39, 4, 336, and 7."
"Leftfield is excited to see the design and future educational program & facility for Groton's youngest learners become a reality," said David Saindon, project executive at LeftField. In addition, we would like to praise the design team of Studio G and the construction management team of Gilbane for all of their hard work behind the scenes to hit this milestone on schedule while still being in a difficult supply chain environment."
Florence Roche Elementary School is slated for completion by 2024.
About Gilbane Building Company
Gilbane provides a full slate of construction and facilities-related services – from pre-construction planning and integrated consulting capabilities to comprehensive construction management, general contracting, design-build and facility management services – for clients across various markets. Founded in 1870 and still a privately held, family-owned company, Gilbane has more than 46 office locations worldwide. For more information, visit http://www.gilbaneco.com.
About Studio G Architects
Established in 1991, Studio G Architects was founded to build sustainable communities through architecture, urban design, and planning. The 22-person firm is a certified women-owned business (WBE) and diverse by design – multi-racial and multi-ethnic, LGBTQ friendly, and 55% women. We recruit, support, and mentor diverse employees who share a commitment to design excellence, superior client service, and environmental and social sustainability. Studio G's clients and project typologies include childcare, K-12 schools, higher education, multi-family housing, and healing environments.
About Leftfield
LeftField is a leading owner's project management firm focused on supporting clients through the due diligence, planning, design, construction, project delivery, and close-out of a project. Serving as a strong partner in the public, academic, science + tech, corporate, healthcare and development sectors, LeftField is currently managing over $2.5 billion of construction projects for high-profile clients. With an entrepreneurial spirt at their core, they pride themselves on the ability to understand the needs and vision of each client. By deftly balancing the competing interests of budget, schedule and quality, their team of talented, resourceful, and passionate project managers ensure the best possible outcome on a project. Founded in 2007, and comprised of 35+ employees, LeftField proudly remains an independent firm offering comprehensive services, to include owner representation, program management, clerk of the works, MEP expertise, cost management and reporting, construction administration, audit services, estimating services, and more. LeftField: The Right Choice in Project Management.