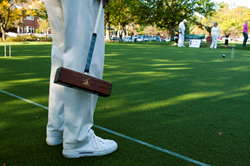 ANNAPOLIS, Md. (PRWEB) May 21, 2019
Ginger Cove, Annapolis' premier life care retirement community, is pleased to be co-hosting the 2019 Maryland Senior Olympics Croquet Competition with the West River Wickets on Saturday, September 28 and Sunday, September 29, 2019. Men and women over the age of 50 are invited to attend a 6-Wicket Croquet Event at both Ginger Cove and the West River Wickets' Courts.
Registration includes an opening reception on Friday, September 27, 2019, lunches on Saturday and Sunday, and an awards ceremony on Sunday. If you're interested in either participating or attending the 2019 Croquet Social events, please download and complete the registration form.
All registration materials must be postmarked by September 1, 2019. No late player or non-player registrations will be accepted.
About Ginger Cove
Founded in 1988, Ginger Cove is Annapolis' premier life care retirement community. Located on 30 wooded acres along Gingerville Creek, it is home to 350 active residents. For more information about Ginger Cove visit http://www.gingercove.com or call (410) 266-7300.