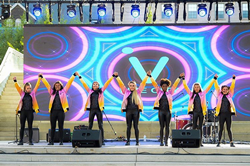 The Star Pow-R showcase will highlight talented performers on the autism spectrum including dancers, full bands, and instrumentalists to raise money for Holland Bloorview and Autism Canada.
TORONTO (PRWEB) January 31, 2020
Girl Pow-R, a rising pop supergroup, is presenting a series of fundraising events in an effort to raise money for Holland Bloorview and Autism Canada.
The Star Pow-R talent showcase is part of Girl Pow-R's #iMatter Tour. The show will highlight talented performers including dancers, full bands, and instrumentalists who are on the autism spectrum.
The first portion of the tour will be in six cities from May 26 through May 31, with locations in Montreal, Quebec and five cities in Ontario: Ottawa, Toronto, Hamilton, Niagara Falls and London. Individuals on the autism spectrum can apply to perform at the Star Pow-R website: http://www.starpow-r.com
Girl Pow-R was formed on International Women's Day 2017, and the group of singers, songwriters, multi-instrumentalists, and dancers have grown more popular with each passing year.
Since starting, Girl Pow-R have won a Family Channel singing competition, as well as nominations for Niagara Music Awards' 'Best New Group' and a Toronto Independent Music Award. They have performed at more than 200 shows in just over two and three quarter years, and were hand-picked to re-create the Mysticons theme song.
This follows a lot of terrific "music and television" experiences for Girl Pow-R such as performing on YTV The Zone three times, and performing on TVO Kids. Girl Pow-R has been on eTalk Canada, and were interviewed on Breakfast Television, CityTV, CP24 Breakfast and Sirius XM Radio for the launch of the debut album, 'This Is Us.'
Girl Pow-R is an all-girl pop rock band with girls ages 11 to 17 years old that create & sing original music, cover songs, play instruments as a band, as well as dance. They love working together to create their music, especially to create the lyrics for their songs which are all about being young and the issues young people have to deal with.
This past summer the group went on its first US Tour to Washington DC, Philadelphia, New York and Boston where Girl Pow-R performed to 500 to 1000 girls at each show. They gain a lot of fans when we tour around!
When Girl Pow-R launched their hit single 'Never Let Go,' the iHeart Radio station in Victoria BC had them in rotation as a featured play. And, in the past, they have also done live, on air radio performances at Fresh Radio 95.3 in Hamiltion and at Fresh Radio 93.1 in Barrie.
They are currently signed to Canyon Entertainment Group, an artist management company and independent record label.
For more information contact:
Dawn Van Dam
Girl Pow-R
info@girl-pow-r.com