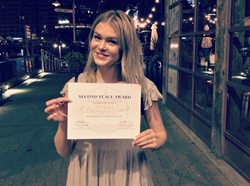 The competition was held on Granville Island and Alexa was among 15 contestants that were narrowed down from thousands.
TORONTO (PRWEB) January 31, 2020
Alexa, the newest member of the pop supergroup Girl Pow-R, recently won second place in the Vancouver Vocal Competition.
The competition was held at the Backstage Lounge on Granville Island. Contestants were required to go through several auditions, and eventually 15 contestants were narrowed down from thousands.
Alexa, who made it into this tier, performed "More Hearts than Mine" by Ingrid Andress.
Alexa is the newest member of Girl Pow-R, a pop supergroup that has recently been making waves.
The group, which was formed on International Women's Day in 2017, has already performed more than 200 shows, and has won a Family Channel singing competition. They have been nominated for the Niagara Music Awards' "Best New Group" and a Toronto Independent Music Award. They also support causes such as education for girls, reduction in youth homelessness, and give peace a chance.
Girl Pow-R is represented by Canyon Entertainment Group, an Ontario-based artist management company and independent record label. Girl Pow-R members are trained to create original music and have taken songwriting courses. They love working together to create their music, especially to create the lyrics for their songs which are all about being young and the issues young people have to deal with.
For more information contact:
Dawn Van Dam
Canyon Entertainment Group
info@canyonentertainmentgroup.com
416-402-8274