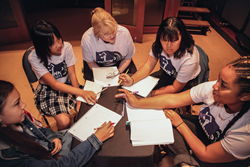 LOS ANGELES (PRWEB) March 04, 2020
On March 8, 2020, Future Youth Records – a nonprofit record label based in California that works with youth to create and distribute music promoting social action – is releasing their second Think Women campaign album, "Sisterhood Sessions Vol. 2". This album is a collaboration between FYR and nonprofits based in the United Kingdom and Los Angeles, CA. The campaign exists to commemorate International Women's Day each year by releasing empowering songs written and performed by girls – many living on the margins.
The album project began in the United Kingdom in March 2019. Eight girls from Bristol's Integrate UK – an organization that helps young people work towards ending gender and racial inequality – wrote two songs over two days inside Peter Gabriel's Real World Studios. FYR recruited top musicians, including Matt "Doctor Fink" of Prince and the Revolution fame, to help the girls throughout the process. The anthemic "I'm A Woman" showcases how the process came together to create a powerful song:
https://soundcloud.com/thinkwomen/im-a-woman
After finishing work in the UK, FYR setup summer and fall sessions in Los Angeles, CA, in partnership with Peace 4 Kids and Education Through Music – Los Angeles. Twelve girls formed four writing groups to complete songs for the album inside East West Studios (formerly Western Studios where Frank Sinatra and the Beach Boys recorded legendary hit records).
The overall experience had a profound effect on FYR's mentor team, agency partners, and girls alike:
"Collaborating with and learning from professionals was incredible! They were so encouraging and got results out of us that we did not think were possible. I cannot say enough positive things about what they contributed to my experience. Also, the setting was a dream". Gala; ETM-LA youth participant (13)
"The girls seemed to really bond with one another during the experience and develop deep, valuable connections. They were sharing how hard the others worked on their songs, from brainstorming to songwriting, recording and awkward dancing"! Miriam Cortez; Program Coordinator, Peace 4 Kids
"This was definitely one of the most rewarding experiences I've had, putting a healing and powerful message out to bring empowerment to young women and help them find their confidence". Matt "Doctor Fink"; FYR mentor/Prince and The Revolution keyboardist
Following the release of this album, FYR will be releasing several music videos, holding events with its campaign partners, and fundraising to produce the 2021 Think Women album, "Sisterhood Sessions Vol. 3".
About Future Youth Records: Future Youth Records ("FYR") is a nonprofit record label dedicated to helping youth create and distribute music that promotes advocacy, empowerment, and social action. To learn more about FYR, or the Think Women campaign, please visit http://www.futureyouthrecords.org.