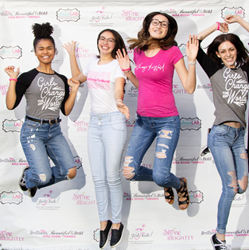 PHOENIX (PRWEB) October 24, 2019
Girls Rule Foundation, a local nonprofit that empowers and trains today's girls to be tomorrow's leaders through empowerment and leadership programs, has opened nominations for its seventh annual Brilliant, Beautiful and Bold Role Model Awards & Mentoring Program.
With nominations from parents, teachers, coaches, principals, mentors, community organizations and community leaders, Girls Rule Foundation has recognized dozens of Arizona residents between the ages of 12 and 18 with the past six Brilliant, Beautiful and Bold Role Model Awards. Nominations are submitted online and include questions and a short essay about the nominee. Nominations are accepted until November 1st, 2019 at http://www.brilliantbeautifulandbold.com
"Every year I am so impressed by the brilliant, beautiful and bold nominees in our state," says Dena Patton, CEO and co-founder of Girls Rule Foundation. "These young ladies are already role models in so many ways, and Girls Rule Foundation is here to help them take their dreams to the next level. Today's girls are tomorrow's leaders, and we need to make sure they are equipped to succeed."
All of the nominees will be celebrated and honored on November 9 at Arizona State University at the VIP Nominee Reception. The public is encouraged to attend this event to celebrate the girls, and six girls will be awarded the title of 2019 Brilliant, Beautiful and Bold Role Model Award Winners. The winners will receive one year of leadership and success mentoring with a team of mentors, and a total of $1000 cash, plus other prizes.
Details:
Who: Nominations open for girls ages 12 to 18 who are U.S citizens and AZ residents.
What: BBB ROLE Model Awards & Mentoring Program.
When: Nominations close November 1, Nominee Reception Nov 9 at ASU.
Where: Free to nominate at http://www.brilliantbeautifulandbold.com
7th Annual VIP Nominee Reception at ASU Tempe
Saturday Nov 9 from 6-8pm.
Tickets $20 https://bbb2019reception.eventbrite.com