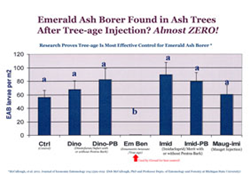 Emerald Ash Borers are a 100% fatal pest, there is zero chance of an Ash Tree surviving without treatment.
Huntingdon Valley, PA (PRWEB) May 08, 2017
Emerald Ash Borer are lethal killers, destroying Ash Trees by the millions and potentially putting this popular tree on the endangered species list in the US. But, why are some Ash Trees able to fight off these fatal pests? Giroud Tree and Lawn explains that Emerald Ash Borers can't survive in Ash Trees treated with Tree-age trunk injection treatments.
"Emerald Ash Borers are a 100% fatal pest, there is zero chance of an Ash Tree surviving without treatment," says Lou Giroud, ISA Certified Arborist and President of Giroud Tree and Lawn, a tree service company. "Research has proven that biannual trunk injections of TREE-age, Emamectin benzoate, provide the best control against Emerald Ash Borer."
Considered the most destructive forest pest ever seen in North America according to Emerald Ash Borer Information Network, Emerald Ash Borer kill Ash Trees when the larvae tunnel beneath the bark, stop food and water movement and starve the tree to death. Ash trees infested with Emerald Ash Borer, decline quickly and usually die within 1-3 years depending on size.
Since Emerald Ash Borer is rapidly spreading through the Philadelphia region, homeowners need to take action to protect Ash trees that are a valuable part of the landscape. The following steps help to ensure Ash trees are properly evaluated and treated:

Contact a professional tree service and have an ISA Certified Arborist inspect the property to identify high value Ash Trees and whether the trees are still healthy enough for treatment.
Check that the technicians doing the Emerald Ash Borer treatments are PA Licensed Applicators.
Ensure the technician has special training in trunk injections including how to correctly calculate the right dosage for the size of the tree and proper set-up of the injection system to provide full protection.
Reaching average heights of more than 80 feet tall and girths as much as 6 feet around, Ash Trees are a valuable part of many landscapes. Losing a tree of this size and stature will have a lasting impact on area homes, businesses and communities. Early detection and treatment to control this deadly pest are keys to preserving Ash trees in the Philadelphia region.
About Giroud Tree and Lawn
Giroud Tree and Lawn specializes in tree service, tree removal and lawn care programs that make customers love doing business with the company since 1974. Serving Bucks, Montgomery and Philadelphia Counties, the company offers professional tree and lawn evaluation, tree pruning, tree removal, insect and disease control, fertilizing, stump removal and traditional and 100% organic lawn programs to keep lawns healthy and green . Giroud Arborists are certified by the International Society of Arboriculture (ISA) and have the knowledge and experience required to properly diagnose, treat and maintain trees and lawn health. The company is Accredited by the Better Business Bureau and has been awarded the Angie's List Super Service Award® every year since 2005. The "Giroud Treework for Charity" program donates free tree care services to parks, historical sites and other non-profit organizations located in the Company's service area. For more information, visit the company website at https://www.giroudtree.com or call 215-682-7704.