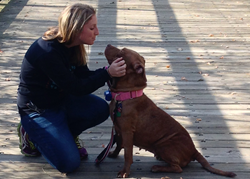 Part of getting a home ready for adopted pets is making sure the yard and outdoor spaces are safe.
Huntingdon Valley, PA (PRWEB) August 07, 2017
Pet adoption is a big decision. Whether adopting from a pet rescue, shelter or breeder, it's helpful to think through how to do it right before jumping in. Giroud Tree and Lawn's Blog post, "Making the Home Safe for Rescued Pets," shares tips that families need to know about how to find the best pet match, understand the care a pet requires and the steps necessary to get the home and yard prepared.
Part of getting a home ready for pets is making the yard and outdoor spaces safe. Many families want to have a nice lawn and control dangerous pests like ticks and mosquitos," says Lou Giroud, President of Giroud Tree and Lawn. "But, some lawn and pest control treatments are not safe for pets. Be sure to ask the lawn service or pest control company if the treatments are pet friendly. For example, Giroud's Organic Mosquito and Tick control is made with essential oils including peppermint and cedar. These natural ingredients make this pest control safe for pets as well as children and pollinators like bees and butterflies."
Other steps to making your outdoor space pet friendly include:
1. Remove containers that collect water or hold chemicals. This will minimize the chances of the pet drinking tainted water and will also reduce mosquito populations.
2. Prune or Remove Overgrown Vegetation: Ticks tend to hide out in shady spots just waiting to latch on to any warm body passing by including pets. Reduce tick populations by eliminating shady tick habitats. Clean up overgrown areas. Hire a tree service to prune tree branches and shrubs around the lawn edge to let in more sunlight.
3. Fencing: Ensure pet safety by installing a standing or underground wireless fence.
Whether living alone or making the decision with family members, pet adoption is a serious step. To get started, families can check out the free pet adoption guide offered by Homeoanimal. Additionally, Giroud Tree and Lawn's Blog post, "Making the Home Safe for Rescued Pets" provides specific tips for preparing the yard and other outdoor spaces.
About Giroud Tree and Lawn
Giroud Tree and Lawn specializes in tree service, tree removal and lawn care programs that make customers love doing business with the company since 1974. Serving Bucks, Montgomery and Philadelphia Counties, the company offers professional tree and lawn evaluation, tree pruning, tree removal, insect and disease control, fertilizing, stump removal and traditional and 100% organic lawn programs to keep lawns healthy and green . Giroud Arborists are certified by the International Society of Arboriculture (ISA) and have the knowledge and experience required to properly diagnose, treat and maintain trees and lawn health. The company is Accredited by the Better Business Bureau and has been awarded the Angie's List Super Service Award® every year since 2005. The "Giroud Treework for Charity" program donates free tree care services to parks, historical sites and other non-profit organizations located in the Company's service area. For more information, visit the company website at https://www.giroudtree.com or call 215-682-7704.