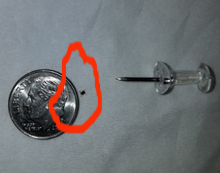 Tick protection starts with controlling ticks in the yard, the place where everyone spends the most time outdoors.
Huntingdon Valley, PA (PRWEB) August 28, 2017
With the shift towards cooler temperatures, many people think it's safe to stop worrying about ticks. Not true! In Giroud Tree and Lawn's recent blog post "Tick Season Isn't Over, Caution Still Needed," the company warns that ticks are still active and that means people need to be on guard. Giroud outlines the 3 Steps for Tick Control and Safety to protect family members and pets from ticks.
The need for continued vigilance around ticks is underscored in a recent news article by Jerry Carino, Staff Writer at USA Today's App.com. The article reviews the explosion of tick borne diseases and includes a quote from Patricia Smith, president of the Lyme Disease Association: "You can get bitten by a tick year-round. Unfortunately, now we know the ticks can be active when it's above freezing."
In it's blog post which includes 3 Steps for Tick Control and Safety, Giroud Tree and Lawn takes a comprehensive look at the tick problem and breaks down the most important actions families need to take. "Tick protection starts with controlling ticks in the yard, the place where everyone spends the most time outdoors," says Lou Giroud, President and ISA Certified Arborist at Giroud Tree and Lawn. "However, families must take additional precautions by checking for ticks after outdoor activities and if discovered quickly removing ticks before disease can be spread."
Here are Giroud Tree and Lawn's 3 Steps to Tick Control and Safety
1. Controlling ticks in the yard: The best way to control ticks is to target where the pests live. Ticks like the shade and seek protection from the sun in ground level vegetation. Favorite hiding spots include high grasses, underbrush, shrubs and wooded areas. Here's what Giroud Tree and Lawn does to control this dangerous pest in the yard:

Tick Risk Evaluation: Complete a risk assessment of the yard to identify tick danger zones and recommend a tick control program.
Perimeter Clean-up: Ticks are shade lovers and can't survive in the sun. Eliminate shady tick habitats in two ways. First, clean up and/or clear overgrown areas. Second, prune tree branches and shrubs around the lawn edge to let in more sunlight.
Deer Repellent: Deer are the primary carrier of ticks through the yard. Use Deer Repellent treatments to deter deer from feeding on valuable plants.
Tick Control Treatments: Both 100% organic and traditional chemical based treatments are available to control ticks. Treat around the perimeter of the property and other high-risk areas where ticks are likely to live. If using chemical based treatments, follow label directions and use cautiously to protect children, pets, pollinators and other beneficial insects.
Plant Selection: Check the landscape to identify and remove plants that are attracting deer to the yard. HGTV provides a list of plants that are repellent to deer.
2. Check for ticks after outdoor activities: Even with tick control in the yard, it's still important to check family members and pets after any outdoor excursion. To find ticks on the body, the CDC recommends:
Bathe or shower as soon as possible after coming indoors.
Conduct a full-body tick check using a hand-held or full-length mirror. Parents should check children for ticks under the arms, in and around the ears, inside the belly button, behind the knees, between the legs, around the waist, and especially in the hair.
Examine gear and pets. Ticks can ride into the home on clothing and pets, then attach to a person later, so carefully examine pets, coats, and day packs.
3. Removing a Tick Embedded in the Skin: If a tick is discovered, University of Manitoba tick expert, Kateryn Rochon, Ph.D.'s video shows how to remove a tick with tweezers. The CDC also offers detailed instructions for removing a tick:

Use fine-tipped tweezers to grasp the tick as close to the skin's surface as possible.
Pull upward with steady, even pressure. Don't twist or jerk the tick; this can cause the mouth-parts to break off and remain in the skin. If this happens, remove the mouth-parts with tweezers. If you are unable to remove the mouth easily with clean tweezers, leave it alone and let the skin heal.
After removing the tick, thoroughly clean the bite area and your hands with rubbing alcohol, an iodine scrub, or soap and water.
Dispose of a live tick by submersing it in alcohol, placing it in a sealed bag/container, wrapping it tightly in tape, or flushing it down the toilet. Never crush a tick with your fingers.
The CDCadditionally cautions to: avoid folklore remedies such as "painting" the tick with nail polish or petroleum jelly, or using heat to make the tick detach from the skin. The goal is to remove the tick as quickly as possible–not waiting for it to detach.
Now that the Fall season is at the doorstep, don't be lulled into a false sense of security that ticks are no longer a concern. Stay alert and follow Giroud Tree and Lawn's 3 Steps for Tick Control and Safety by controlling ticks in the yard, checking for ticks after every outdoor activity and quickly removing ticks to prevent becoming infected with a dangerous illness like Lyme Disease or the Powassan Virus.
About Giroud Tree and Lawn
Giroud Tree and Lawn specializes in tree service, tree removal and lawn care programs that make customers love doing business with the company since 1974. Serving Bucks, Montgomery and Philadelphia Counties, the company offers professional tree and lawn evaluation, tree pruning, tree removal, insect and disease control, fertilizing, stump removal and traditional and 100% organic lawn programs to keep lawns healthy and green . Giroud Arborists are certified by the International Society of Arboriculture (ISA) and have the nowledge and experience required to properly diagnose, treat and maintain trees and lawn health. The company is Accredited by the Better Business Bureau and has been awarded the Angie's List Super Service Award® every year since 2005. The "Giroud Treework for Charity" program donates free tree care services to parks, historical sites and other non-profit organizations located in the Company's service area. For more information, visit the company website at https://www.giroudtree.com or call 215-682-7704.