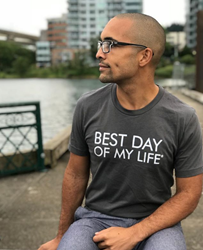 SAN DIEGO (PRWEB) November 07, 2018
Best Day of My Life is a lifestyle t-shirt company for people who want to promote and create gratitude, positivity, and happiness in their lives and the lives of people around them. "Best Day of My Life" means different things to different people. It could be the day you get married, the day you met your idol, even the day you paid off your student loans. Or maybe it's the day you sat through your last chemo treatment, and the day the doctor said, "you're in remission," leading up to celebrating one year of being cancer free. The phrase "best day of my life" can be a proclamation, a celebration, a goal, a wish for the future. However one perceives the idea, is entirely up to them.
Offering styles and sizes for men, women and children, Best Day of My Life appeals to anyone looking for comfortable clothing, that also makes a statement. Using durable cotton, printed right here in the US, the team has created t-shirts, tank tops, hooded sweatshirts, hats and even onesies, ensuring that their message of hope and optimism could be enjoyed and shared by all. One of the more popular items is a the "Wedding Set," a black t-shirt for the groom, and a white tank top for the bride. A delightful gift idea for the newlyweds.
Best Day of My Life understands and respects that there are many bad days, terrible even, a lot of which are uncontrollable. What they are suggesting is, why not try to focus on the positive things in life? Find that silver lining, as small as it might be, with lighthearted affirmations from an encouraging line of clothing and gear that help make even the darkest day, just a little bit brighter.
For every item that is purchased, Best Day of My Life will donate 10% to the Front Row Foundation. Featured on TODAY show, the Front Row Foundation is an amazing organization whose mission is to help individuals and families who are braving critical health challenges "live life in the front row™. For those who are facing life-altering health issues, any positive experience, especially those that involve their favorite sports team or musician, can be a life-changing experience. A moment of light in a time of darkness. The Front Row Foundations helps individuals set aside any physical or emotional challenges while they celebrate the beauty and emotional energy of life.
To learn more about Best Day of My Life, and to shop the vast array of gear visit BestDayOfMyLife.com. To set up an interview with this innovative bread, reach out to Tiffany@TeamChicExecs.com. And visit FrontRowFoundation.org to see more ways you can help.
About Best Day of My Life
Five "brothers" started using the tagline "Best Day of My Life" when asked how their day was going. It started as a joke, but they all quickly found that these five powerful words not only positively affected the quality of their day, but also the people on the other end of the interaction. Anytime they wore the shirts (usually all matching at once) magical things started to happen. Strangers started approaching them to talk about the best day of their lives, not just prompted by the spectacle of five grown men dressed the same, but because of what the shirts inspire. This organic process motivated them to spread their message.