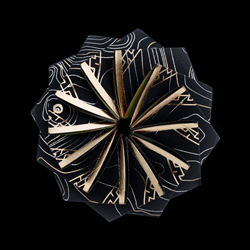 All our products are beautifully packaged, so these are gifts that don't even have to be wrapped. We anticipate high demand for our popular shampoo and conditioner bar bundle sets plus our dry shampoo and body wash bars.
OREM, Utah (PRWEB) November 09, 2022
Viori™, an all-natural hair cosmetics brand, is gearing up for a busy holiday season as word spreads around the globe about its unique gift offerings and important mission.
"All of our products are beautifully packaged, so these are gifts that don't even have to be wrapped," said Tszman Fisher, co-founder of Viori. "This Christmas we anticipate high demand for our popular shampoo and conditioner bar bundle sets. The buzz surrounding our new dry shampoo has been fantastic so that will be a hot item as well. We also have a body wash bar that our customers love, and if you don't know what to buy for someone, we have digital gift cards. We've got the holiday gift giving season covered."
Viori offers discounts on bundles, and with a Viori subscription customers can save up to 45% off. Click here for rewards and perks.
Viori Products

Shampoo and Conditioner Bars - Viori™ shampoo and conditioner bars are sulfate-free, paraben-free, phthalates-free, pH balanced, natural, 100% vegan, plastic-free, sustainable, cruelty-free, and ethically sourced.
Dry Shampoo – Just add a few shakes of Viori Dry Shampoo to roots to absorb oil and add texture and volume. In addition to adding body to flat hair, Viori Dry Shampoo extends the life of a blowout, and makes hair smell great.
Mini Shampoos & Conditioner Bars – All the benefits of Viori in a smaller form factor. Great for travel. Scheduled to launch November 16th, just in time for Holiday shopping.
Body wash Bars - Viori™ body wash bars cleanse and moisturize the skin. They're 100% natural, vegan, sulfate-free, paraben-free, cruelty-free, and plastic-free. Available in natural aloe scent or unscented.
Handcrafted Bamboo Comb - Made by a guild of bamboo artisans who have been nurturing their local bamboo and perfecting their craft for centuries. Bamboo gently massages the scalp and detangles hair, promoting circulation and distributing natural oils to increase shine.
Bamboo bar holders - Handcrafted by local villagers in southern China. These bamboo bar holders are eco-friendly, biodegradable, and 100% sustainable. You can also stack these holders in order to save space in the shower.
Digital Gift Cards - Not sure what to buy? A gift card lets the recipient choose whatever they want.
Recent Customer Reviews
"My hair has never in my life felt so silky and smooth! I have had that fly away, thick hair that always looked so unruly! I am amazed and love this product! So much so, that I am gifting some for Christmas this year!" - Jody B.
"Bought as a gift for my 14 yr old granddaughter. She LOVES it and I definitely will purchase again." - Kay C.
"This shampoo bar is wonderful. It makes rich suds and cleans my hair to a lush texture and bright shine. I have gifted several friends with the shampoo bar and the conditioner bar, they all love the scent AND the wonderful way it enhances their hair." - Mary M
"After the first time of using it my hair is so shiny and not falling out anymore it's amazing my new thing to gift everyone for Christmas!!!!!" - Cynthia L.
To learn about and order Viori products visit https://viori.com/
About Viori™
All Viori™ products contain the same, ritually prepared Longsheng rice water used by the Red Yao for centuries. Viori works directly with the Red Yao to purchase their ancient rice, at a premium, to create a long-term, sustainable partnership. Viori works with the Red Yao directly to initiate projects to bring about economic prosperity, ecological harmony, cultural preservation, and community wellbeing for their tribe.
To learn more about Viori's mission click here.