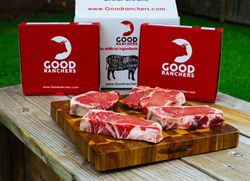 HOUSTON (PRWEB) December 14, 2020
Good Ranchers, a local meat subscription company, is gearing up for the holiday season with its specialty premium meat boxes. The family owned and operated business partners with local farms and ranches to ensure the highest quality meat and offer the most affordable prices. All orders placed in the month of December will receive a free holiday ham as part of their delivery.
Good Ranchers extremely affordable boxes are the lowest price for any online meat delivery subscription – averaging $3.21/per meal, which is 40% cheaper than its competitors.
Good Ranchers uses only USDA graded Choice and Prime meats you can trust with grass-fed and grain-finished cattle. For other companies, they are only getting their meats inspected by the USDA. See here for more information on the health benefits of grass-fed and grain-finished cattle.
The meat subscription boxes can be ordered with a quick click – offering a variety of options including:

Rancher's Classic: $139 Subscription, $169 One-Time
The Cattleman: $160 Subscription, $199 One-Time (Most Popular)
All-Natural Chicken Pack: $120 Subscription, $149 One-Time
Family Feast Bundle: $229 Subscription, $275 One-Time
The meat subscription company was founded in 2018 by The Spell Family, and with its popularity, came 35 new employees. The founders saw a need for high quality, local American Beef, Chicken, and Pork and didn't think the grocery store options were cutting it (even more so now with COVID-19 shortages). The family set out on a mission to bring only the best American steaks, chicken, and pork to their customers and made it more affordable by cutting out the middle man.
Related: 8 Reasons Good Ranchers Is The Best Meat Subscription Box
Navigating the Pandemic
Customers can shop safe from their comfort of their own home with our online ordering – whether for yourself or for a gift. Place your order online and have it shipped directly to your front porch with complimentary shipping on all orders. All of the meat comes vacuum sealed and individually packaged so you can easily store it in your freezer and be stocked up for months – without having to return to the grocery store.
Just this year Good Ranchers has donated 230,000 meals to families in need through their partnerships with Food Banks across the U.S., including the Houston Food Bank, where the team volunteers every December. During the height of COVID, Good Ranchers gave away more than 200,000 steaks to those in need via their own food giveaways in both Houston and Las Vegas.
Good Ranchers By The Numbers:
2018: Founded in Houston
150,000: Customers
80: Pop-Up Location Cities
35: Employees
450,000: Meals Provided To Families In Need in 2020
ABOUT GOOD RANCHERS
Founded in 2018, Good Ranchers is a family-run online meat retailer that delivers hand selected 100% American beef, All Natural chicken, and Berkshire heritage-breed pork (the most sought after pork in the U.S.) directly to customer's doors. All of our livestock grow in a stress-free environment, never fed anything unnatural, and are sourced from local ranches and farms throughout the heartland of America. We use the most innovative techniques to ensure every cut of meat that hits your table is a cut above the rest. For more information, visit GoodRanchers.com or follow the company on Instagram, Facebook, or Pinterest.