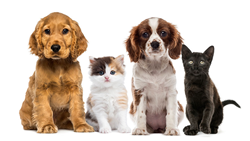 "Puppies and kittens are babies. They need to bond with their pet parents, potty-train and learn the house rules. Bring a fur baby home when celebrations slow down after the New Year." --Walter M. Woolf, VMD, Air Animal Founder and Veterinarian
TAMPA, Fla. (PRWEB) November 04, 2020
If a new puppy or kitten has made it onto your gift list, give a gift that amps up anticipation and participation instead of bringing the cute little fur baby home during the holidays, advises Air Animal Pet Movers.
Cory Robinette, Air Animal's COO, recommends fulfilling holiday pet wishes this way. "Buy a beautiful plush puppy or kitten toy and give it with a card promising to contact a local breeder after the holidays when you can choose that real puppy or kitten together. Local animal shelters and breed rescue groups may also have that perfect pet just waiting for you. You may also find some post-holiday sales on dishes, leashes, beds, scratching posts and toys for your new fur baby," Robinette adds.
"Puppies and kittens are babies. They need to bond with their pet parents, potty-train and learn the house rules. That means lots of play time and repeating the routines over and over. Keeping fur babies out of the holiday decorations and making sure they don't eat something dangerous like chocolate or poinsettias is a full-time occupation. Bringing a fur baby home when celebrations slow down after the New Year can work a lot better," says Walter M. Woolf, veterinarian founder and CEO of Air Animal Pet Movers.
There are thousands of Internet ads selling cute puppies and kittens or offering rescued pets during the holidays. Sadly, these ads often set-up cybercrime. "The Internet is full of imitators and fraudsters offering fake rescued pets, Siberian husky puppies, Yorkies, bulldogs, Capuchin monkeys, parrots and other boutique animals. Don't be fooled by pet scams!" warns Robinette. "We get calls all the time from people who have been scammed. They think we are transporting their pet purchase from the fake breeder. It breaks our hearts."
Acquiring that new member of your family through an internet purchase may look good. Caveat emptor---buyer beware.
There are ways pet lovers can effectively fight back if they have been scammed. Check out Air Animal's Don't Be Fooled page. It's regularly updated when new pet scams pop up.
Best bets to get a pet after the holidays:
1. .To buy a puppy or kitten through a breeder, shop local first. Take your time. Thoroughly check their references and reviews. Avoid Internet come-ons and scams.
2. Find registered puppy breeders through the American Kennel Club.
3. Locate reputable kitten breeders through The International Cat Association or the Cat Fanciers' Association.
4. The U.S. Department of Agriculture licenses or registers every breeder, dealer, pet transporter or carrier. Check their registration with the USDA before sending money.
5. Nearby animal shelters or rescue organizations are also excellent places to adopt a fur baby needing a home. Some of the rescue operations specialize in specific breeds.
About Air Animal
Air Animal has helped more than 55,000 families move their 110,000 furry, feathered and scaly pets around the globe since 1977. They welcome pet move authorizations and referrals from major corporations, relocation management agencies, household goods movers, veterinarians, families, U.S. military and government transferees. Get the best in animal care and transportation. Air Animal is an appointed and endorsed IATA air cargo sales agency working with all airlines that move animals. They are an Indirect Air Carrier cleared for tendering live animals to airlines by the U.S. Transportation Security Administration. See airanimal.com to learn more about Pet Moving Made Easy®.