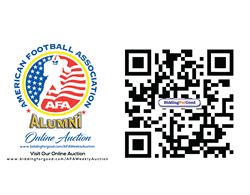 BINGHAMTON, N.Y. (PRWEB) November 21, 2018
Giving Tuesday - Times Square Billboard Takeover Tuesday, November 27, 2018
Due to the success of the American Football Day Billboard Takeover, the American Football Association has been invited to participate in the Giving Tuesday Billboard Takeover, November 27, 2018. Our billboard will feature QR Codes with smart links. To view QR Code for Mobile Device Scan; download the ScanLife App from your mobile browser:
1. Go to http://www.getscanlife.com
2. The site will auto-detect your device OS/Let you choose from a list of devices
3. Press the "download" button
4. ScanLife will download to your mobile device giving you instant access to integrated barcode scanner app
AFA Online Auction
The online portion of the American Football Association's Fund Raiser Auction is now open and will feature Black Friday and Cyber Monday specials. The auction is running monthly from November 2018 thru June 2019 with proceeds going to the American Football Association's operations. The online auctions will culminate with a live auction during the annual hall of fame inductions on June 21, 2019. Auction items range from signed sports memorabilia to exotic vacations and exclusive experiences which are guaranteed to delight and surprise. All items are currently viewable at http://www.biddingforgood.com/AFAWeeklyAuction.
This auction also enables the AFA to provide item donors with a valuable platform for visibility. The greater the value of the items chosen to donate, the more opportunities for promotion and recognition organizations can receive. Take advantage of this opportunity and consider supporting the AFA's auction! Just click Become A Donor. Have a question or suggestion? Want to learn about Sponsorship opportunities? Just click Become A Sponsor
Ways to support AFA's Giving Tuesday Campaign:

About the American Football Association: The American Football Association is a national 501(c)(3) non-profit, tax exempt corporation in its 39th year of operation and is dedicated to the advancement of adult (semi-pro) football from coast-to-coast. Our slogan is Semi Pro & Proud®. We are not affiliated with any other national semi-pro/minor league organization. The AFA, Hall of Fame, American Football News™ and AFA logo design are registered trademarks of the American Football Association. All other AFA-related trademarks are trademarks of the American Football Association.