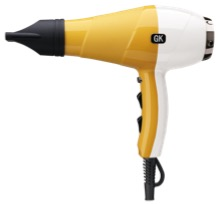 We should always create new things without looking at what others are doing.
SAN JUAN, Puerto Rico (PRWEB) November 06, 2018
GKhair has launched a blow dryer that - on top of making just a style - looks after the hair's moisture and temperature. GKhair Ion Pro Blow Dryer is an all-new product that is low-noise, powerful and helps promote hair health while delivering the desired hairstyle.
The Ion Pro is so powerful with bonus benefits that it makes sure the hair's moisture is sealed securely. Due to GKhair introducing ionic technology to its' newest blow dryer model, high-speed motors and infrared heating, the results produced are nothing but high performance leaving hair looking shiny, silky, and styled to perfection.
Ionic Technology of the Ion Pro helps to eradicate frizz by offering negative ions to the hair for ultimate smoothness.
The infrared technology - allows air to reach each and every hair strand evenly. In lieu of that, the amount of time needed to completely blow dry the hair is significantly dropped due to the powerful motors present in this device also protecting the hair from heat damage from uneven heat flow.
Other added features of the New GKhair Ion Pro Blow Dryer are the speed, temperature, and Cool Shot controls. These controls allow the variables to be quickly changed and swapped between cool and warm temperatures within seconds. Airspeed can also be changed per need and convenience.
Lastly, this product is excellent for salon and personal use because it has a low-noise functionality which means that there is less disturbance making it easy and environment-friendly.
In addition, this dryer can - and should - be used alongside all other GKhair products to produce the best results on the hair.
Click here to watch the video!
"We should always create new things without looking at what others are doing," says Van Tibolli.