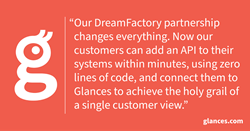 Our DreamFactory partnership changes everything. Now our customers can add an API to their systems within minutes, using zero lines of code, and connect them to Glances to achieve the holy grail of a single customer view.
MINNEAPOLIS (PRWEB) August 03, 2020
The developers of Glances, the no-code solution that unifies multiple apps with a simplified customer view, have officially announced a partnership with the team at DreamFactory, experts in creating secure APIs without code and leading integration strategies.
Working together, Glances and DreamFactory will help businesses seamlessly connect even more of their applications – even out-of-date and hard-to-access internal systems – to achieve the time-saving benefits of a real-time, single view of customer data. The more systems and software businesses can connect with the help of DreamFactory REST APIs, the more powerful Glances will be in helping professionals that work in CRMs, support systems, marketing platforms, and other necessary apps stay in their program of choice, but still gain access to a holistic view of each customer.
Partnership benefits will include the ability to:

Enable customers to now connect their internal systems
Grow Glances reach so it is compatible across more platforms
Save time and boost productivity with more connected software and systems
Give DreamFactory customers more value out of creating secure APIs
Get covered with 16 different database engines supported
Create instant APIs without the need for any code
"Businesses want to easily access a single, more complete view of their customer data. That is hard and extremely expensive to truly do if your data lives in internal or outdated applications that do not have a modern, publicly available API. DreamFactory changes everything. Now our customers can add an API to their systems within minutes, using zero lines of code, and connect them to Glances to achieve the holy grail of a single customer view," said Jason Eggers, co-founder and CEO of Glances.
An Application Programming Interface (API) defines certain interactions between software programs, such as specific calls or requests for data. According to Forrester* research, "APIs are critical for digital transformation. Beyond their architectural role in app integration, APIs enable new business strategies, rapid business change, broad ecosystem connectivity, and world-class customer engagement."
After years of helping companies manage their data, DreamFactory saw a desperate need for an affordable solution that took the complexities out of hard-to-master and inconsistent APIs.
"We have seen for years the struggles, high cost, and increasing business risk around building APIs on
top of existing applications. DreamFactory is the optimal no-code solution to instantly build secure APIs, completely eliminating that risk. With the ability to spin up an API for internal applications in just minutes and layer granular security controls, DreamFactory brings even more value to customers as they are then able to leverage world-class, API-based tools such as Glances," noted Jason, CTO and Chief Architect of DreamFactory.
Glances was created to be a user-friendly standout in the Integration Platform as a Service (iPaaS) industry because it unifies customer data from numerous applications without the need for any coding, data syncing, or scheduling jobs. DreamFactory is the perfect partner because it enables Glances to expand its reach to even more systems – specifically those that were formally internal only, archaic, or did not have a public API to access.
"Providing a no-code solution to integrations is extremely important to the success of any Customer Data Platform (CDP) project. Having a singular source of truth is more important than ever. However, the cost and time investment has always been too out of reach for the vast majority of businesses out there. We built Glances to bring what was once only attainable by enterprise companies to the masses. DreamFactory takes that to a whole new level by making any internal application available to plug-and-play with no-code needed, just like for Glances. Within minutes you can have a true CDP at your fingertips," said Chad Hutchins, co-founder and CTO of Glances.
Ultimately, Glances works to empower users with immediate access to the most updated customer information, exactly when and where they need it. DreamFactory helps expand the options of connected apps for Glances, so users can view their crucial customer data without tab switching, searching, and clicking around to find it. New users to Glances can take advantage of its DreamFactory partnership by requesting APIs to be built for any company system that is currently not compatible.
Email hello@glances.com to make an API request or get more information on the process. To learn more about Glances and schedule a complimentary demo, visit glances.com.
To learn more about DreamFactory and its API management process, visit dreamfactory.com.
About Glances
The single customer view you have always wanted is here. Glances unifies your apps in a simplified, easy-to-use customer view that provides real-time data from within any app that you are using. In minutes, securely connect your apps and eliminate tab switching, searching, and clicking around to find important information. For more information, visit glances.com.
Glances is brought to you by Fanatical Labs, developers of high-quality software integrations for CRM systems and popular tech platforms for over 15 years. Learn more about the team at fanaticallabs.com.
About DreamFactory
Based in Las Vegas, Nevada, DreamFactory is a pioneer in the API Economy with our API Automation
Platform that blends the auto-generation of APIs with an API Management gateway. By simply connecting DreamFactory to any enterprise data source, data stewards can empower external developers with a secure API gateway to deliver integrated mobile, web and IoT workloads in minutes not months. DreamFactory can even serve up secure consumable REST APIs to an existing ESB or ETL without the overheads associated with hand coding integrations. With our flexible deployment options, firewall friendly architecture, and granular security, DreamFactory is the preferred gateway for data managers.
*Source: Forrester; A Developer's Guide to Forrester's Strategies for API Success, March 2018