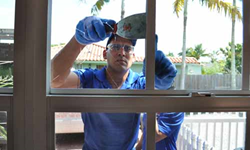 There is a yearly cycle of glass replacement questions we get from customers
West Palm Beach, FL (PRWEB) May 11, 2016
May 11, 2016 West Palm Beach, FL.
West Palm Beach's leader in glass replacement services, Express Glass is proud to announce a new blog series on seasonality. Seasonality refers to items and repairs that vary Spring, Summer, Winter, and Fall. Kicking off with a focus on Summer, 2016, the blog series addresses seasonal events in Florida which affect local need for glass repair and glass replacement information not only in West Palm Beach but throughout South Florida.
"There is a yearly cycle of glass replacement questions we get from customers," explained Yaniet Santos, general manager of Express Glass. "From hurricane season to real estate season, the questions can be different. We are announcing a new blog series to address all glass replacement questions, no matter what time of year it is! Our first topic area has to do with the replacement of sliding glass doors."
To review the Express Glass blog postings that are timely for Summer, interested parties are referred first to http://www.expressglassfl.com/blog/category/sliding-door-replacement/. Details about West Palm Beach Glass replacement, as well as information for other Florida cities about glass repair is available, by clicking up to the Menu. Alternatively, one can view specific information to West Palm Beach at http://www.expressglassfl.com/west-palm-beach-glass-window-repair/.
For West Palm Beach Locals, Glass Replacement Questions Change with the Seasons
In West Palm Beach and other Florida cities, seasonal events can bring up different questions about glass replacement dilemmas. Questions for hurricane season may include researching the best glass to withstand high winds; the summer season may bring concerns about finding the best energy-efficient windows to keep a home cool. Other seasons such as tourist season or real estate season bring different questions regarding West Palm Beach glass replacement.
As the Internet leader in providing information for South Florida, Express Glass has made its mark by using its blog to share timely information for busy Florida homeowners and business owners who are hungry for information but short on time. If residents are searching for West Palm Beach glass replacement for high-impact winds, or emergency glass repair during Spring Break, new blog posts will have helpful information. The Florida lifestyle can change with the seasons and Express Glass professionals are experts in seasonal glass repair emergencies. The questions may change, but the answers to West Palm Beach glass replacement can be found at one knowledgeable source.
About Express Glass and Board Up
Express Glass and Board Up Service Inc. is a family owned and operated glass repair business with more than 20 years of experience. Professional technicians and the large variety of inventory make Express Glass the top glass repair service. If customers are looking for West Palm Beach glass replacement or glass repair or Ft. Lauderdale glass repair, reach out to the company for a free estimate. 24/7 emergency storefront glass replacement and repair services are also available. If customers need a 24/7 Sliding Glass Door repair service in West Palm Beach or Boca Raton or Miramar, technicians are standing by. The company specializes in sliding glass door repair and window glass repair; technicians will handle any glass replacement situation efficiently. Home or business glass repair is the company's main priority.
Express Glass Repair and Board up
http://www.expressglassfl.com/