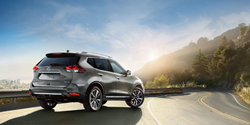 GLENDALE HEIGHTS, Ill. (PRWEB) May 15, 2019
Summer has finally arrived. The perfect time to get out of the house after a long and cold winter and take a fun vacation or road trip. However, after years of driving the same vehicle, it might not be the most reliable or safe option for a special trip. In order to get out and enjoy some fun in the sun, Glendale Nissan, a dealership serving the Glendale Heights and Chicago areas, is hosting the Nissan Summer of SUVs event.
Just in time for Memorial Day, the Nissan Summer of SUVs event will last the entire month of May, as drivers will be able to get great lease deals on some of the newest and most exciting Nissan SUVs. These include offers on vehicles such as the 2019 Nissan Rogue S, as well as the 2019 Nissan Murano S AWD model. The Rogue S will be available for lease for just $189 per month for 36 months with $3,999 due at signing, while the Murano S AWD will be available for lease for $239 per month for 36 months with $3,499 due at signing. While it is an SUV event, other popular Nissan models such as the Sentra and Altima will also have their own exciting deals.
Of course, car shoppers like to learn as much as they can about a vehicle before signing any papers. That's why Glendale Nissan makes it easy for drivers to test drive their favorite vehicles, research Nissan models on their blog, as well as offer ways to calculate monthly payments and trade towards a new purchase.
Glendale Nissan is a full-service dealership in Glendale Heights that specializes in both new and used Nissan vehicles. Those interested in shopping the Nissan Summer of SUVs event can visit the dealership this month for more information. Car shoppers can also get a hold of the dealership at http://www.glendalenissan.com or by dialing 630-469-6100.