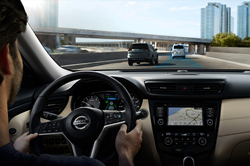 GLENDALE HEIGHTS, Ill. (PRWEB) June 11, 2019
It has been an exciting time to be a Nissan fan through these past few years. As the manufacturer continues to enjoy a successful 2019, many automakers and car shoppers are turning their heads to what's to come with the 2020 model year vehicles. However, while these new models might be enticing, Glendale Nissan, a Nissan dealership serving the Glendale Heights and Chicago areas, is hosting a Summer Savings Event.
During the Glendale Nissan Summer Savings Event, drivers will be able to save anywhere between $5,000 and $15,000 off the MSRP off the dealership's remaining new 2018 model year Nissan vehicles. For those interested in leasing a vehicle, the dealership is also offering fantastic lease deals. For example, drivers can lease the 2019 Nissan Sentra SV for just $99 per month for 36 months with $4,275 due at signing, as well as lease the 2019 Altima 2.5 S for $169 per month for 36 months with $3,999 due at signing. Popular SUVs like the 2019 Rogue S can also be leased for a great price, with just $189 per month for 36 months with $3,999 due at signing.
Of course, instead of taking advantage of these great deals, drivers can also expect to see the most exciting new Nissan vehicles arriving at the dealership in the near future. On the Glendale Nissan website, car shoppers can also conduct research on the new 2020 models through the dealer's blog and many model information pages.
Glendale Nissan is a full-service dealership that specializes in offering new and used Nissan vehicles. Those interested in shopping the Summer Savings Event have the rest of the month, as these deals end on July 1, 2019. For more info, shoppers can contact the dealership at http://www.glendalenissan.com or by calling 630-469-6100.