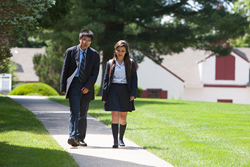 Glenholme helped my son function in the world... I have hope for his future now. ~ a Glenholme parent
Washington, Connecticut (PRWEB) August 15, 2017
Founded nearly 50 years ago, The Glenholme School, a special needs boarding and day school in Washington, Connecticut, announced enrollment for the 2017-2018 school term remains open for students, ages 10 to 21, who struggle with social, emotional and learning differences.
Fully accredited by the New England Association of Schools and Colleges, Glenholme provides a comprehensive curriculum encompassing college preparatory and career development courses for students of all ability levels, which results in a high school diploma. With instruction in specialized learning strategies and a strong emphasis on executive functioning skills, students are inspired to master each subject in their unique way and at their own pace.
The school's curriculum success is strengthened by the after-school enrichment and boarding programs. Students are offered a rich assortment of extracurricular and instructional activities, which support student development in academic and social competences. Athletics, the arts, culinary, equestrian, and technology are emphasized. The Glenholme culture is infused with a deep-rooted set of core values and supported by an all-encompassing positive school climate which helps build capable and resilient children.
Located in the foothills of the Berkshire Mountains in Washington, Connecticut, just two hours north of New York City by car, Glenholme is a well-situated school for students originating from around the world.
"As in prior years, Glenholme has many new enrollments and returning students from across the nation and from around the globe, we still have openings for students in grades 5-12, as well as in our growing transition program. Glenholme's rolling admissions policy, allows students to apply and enroll throughout the year, "says Glenholme Director of Admissions David Dunleavy.
Interested families with students on the autism spectrum or facing ADHD, OCD, Tourette, depression, anxiety and other learning challenges are encouraged to inquire with the Glenholme Admissions office at (860) 868-7377. School representative can provide more information about the program and schedule a tour the school's stunning campus. School tours are arranged by appointment, typically on a weekday when classes are in session. This affords guests the opportunity to see classroom activities as well as tour the facilities across the 110-acre campus. Applications for admission can be found online at http://www.theglenholmeschool.org/admissions-process.
About The Glenholme School:
Devereux Advanced Behavioral Health — The Glenholme School is an independent, coeducational, special needs boarding school for young people with high functioning autism spectrum disorders, ADHD, OCD, Tourette, depression, anxiety, and various learning differences. The program provides a treatment milieu designed to build competence socially and academically. Our learning environment supports and enhances the ability for young people with special needs to succeed. Devereux Advanced Behavioral Health is a leading nonprofit behavioral health organization that supports many of the most underserved and vulnerable members of our communities. For more information about The Glenholme School and its program, visit http://www.theglenholmeschool.org/.